Metallica's first album in 7 years: hear the first notes in-studio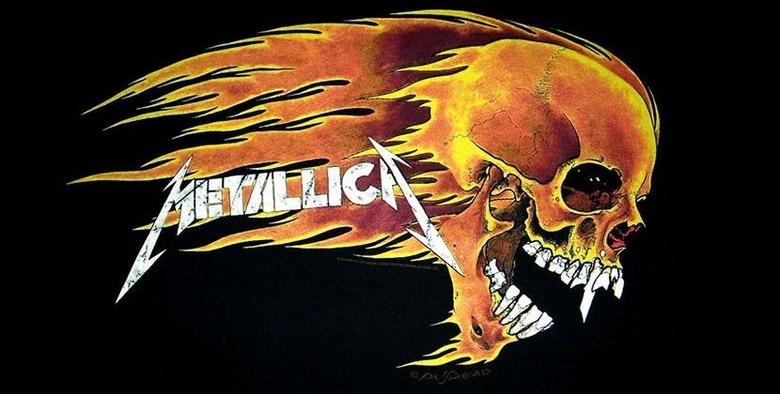 Today a video has been released by Metallica to celebrate their new website AND show the first tunes from their new album. This album will be released at SOME point in the next few months – they're literally in the studio as of last week recording it. The video you're going to see shows Lars Ulrich talking at length about a bunch of junk, then shows James Hetfield recording some drums – no, vocals – no, maybe some guitar tunes. One way or the other you'll be hearing a few notes.
The video you're about to see has a lot of talking in it. If you just want to hear the tunes, fast-forward to the 2:08 point. There you'll find Hetfield sitting on a chair with a guitar, playing some fun music. You'll hear some wanging and some cranging.
UPDATE – video was taken down, here's another version. This one has a lightsaber in it! Brutal.
This video is only otherwise available (at the time this article is published) by signing up for Metallica's new website. So if you want to sign up for their new website, you can do that by going to Metallica dot com and sign over your email and name and birth date and so forth.
According to Ultimate Classic Rock, Kirk Hammett suggests that the new album will be "heavy."
"It's heavy. We've got some heavy stuff going. It delivers on that front for sure."
Hammet went on to suggest that he's "a little bit wary to comment too much on the album, because then people pick up on it, then people think that that's the final definitive statement on what this album is, or how much of it is done, or what it sounds like or whatever – and that's not really the case. It's not accurate. We're still working on it."
It would seem that Hammet also compares the new album's first tracks to "Death Magnetic" – but based on the rest of the things he's said about them "still working on it", we're hesitant to pass any very, very early judgement. We shall see!