Mesuit case lets iPhones "run" Android with its own SIM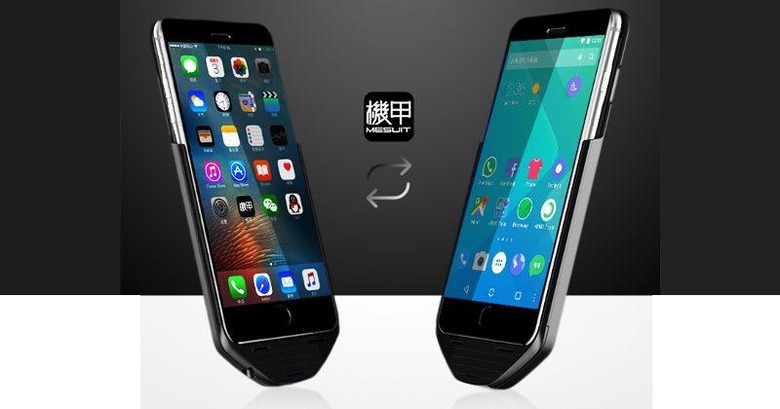 Despite how media and stereotypes portray them, not all smartphone users have brand or mobile OS issues. Some do find benefits, even joy, in using both iOS and Android. While some are forced into using both, whether they like to or not. Both types, however, would probably prefer to carry just one device for both, something that is impossible to do. Until now. With the Mesuit iPhone case, you can have your iPhone and run Android on it no sweat. Or at least that's the promise.
This isn't a case of iOS being able to run Android directly nor one where an iPhone dual boots iOS and Android. We've seen this kind of "trick" before, albeit the Mesuit is looks sleeker and less like a self-made hobbyist prototype. It's actually also available for purchase, too! Mesuit is the size and shape of a battery case and, in fact, it actually functions as one, giving an iPhone 6 or 6s additional 1,700 mAh of power, or 2,500 mAh for the iPhone 6 Plus and 6s Plus.
The secret, however, likes inside the case, which hides practically the barebones of a smartphone, complete with a MediaTek MT6753 processor, 2 GB of RAM, and 16 GB of storage. This board is what runs Android, hidden from the iPhone. An iPhone app provides a window into that Android, allowing users to interact with it as if it were really running on the iPhone itself. Data is exchanged between the two via Lightning connection. The Mesuit case supports a nano SIM for the Android part and both it and the iPhone SIM can be active simultaneously.
Sounds good? It might be an ideal compromise for those with iPhones who still want or have to use Android. There could be some lag in responsiveness, not because of hardware, but because of touch events and display images being ferried back and forth. So don't be expecting to play fast-paced games or use graphics intensive apps with it.
And perhaps the biggest catch of all is that it's available only in China, for now. The Mesuit case for the iPhone 6/6s costs 999 RMB, around $150, while the larger iPhone 6 Plus/6s Plus version goes for 1,099 RMB, roughly $165.
SOURCE: JD.com