Mercury Elite-AL Pro FireWire + USB 2.0 1TB drives from OWC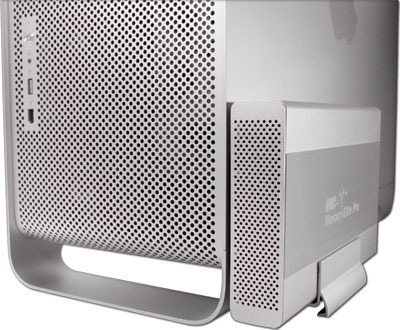 These drives are great for Mac computers. They have two FireWire 400 ports on them which means you can daisy chain them, they have an Oxford chipset so they are Plug N Play compatible with Macs, and they are designed similar to the Mac Pro.
Prior to this new update these drives only went up to 750GB, but now they've added the new 1TB version. For other computers, including Windows and Linux based systems that may not have FireWire, there is also a USB port and the drive is compatible with both of those OS's as well.
Another bonus is that you can seamlessly read, write, or access data on the drives from any one of the interfaces allowing for use of the drives between multiple computers. This series of drives starts at 80GB for $107.99 with the new terabyte drive at the top of the line for $369.99, but right now Hitachi is running a $30 rebate on the terabyte models making it $339.99, and they can be found at OtherWorldComputing.
[via OWC]