Mercenary Kings PS4 pixel-violence release set for April 1st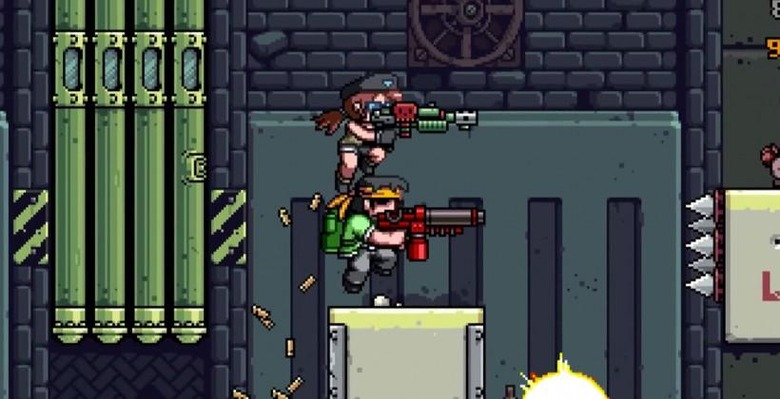 At the start of April, the folks at Tribute Games are set to deliver the cartoon-flavored violence-filled game known as Mercenary Kings to PlayStation 4. This title has been out on Steam for a short bit of time, and will be rolling out to the PlayStation Store starting on the 1st of April – no fooling! This title mixes firepower with side-scrolling classic gameplay in a pixel-filled cartoon-inspired landscape that'll likely take command of the PlayStation's download-only section for some time to come.
This title has the user choosing between two members of the Mercenary Kings, Empress or King. These battle-ready warriors take flight to Mandragora Island where they'll be facing off against C.L.A.W. (Cyber Loyalist Active Weapons). The team working with C.L.A.W. have your best buddy Dr. James Neil in their vile clutches and plan to take over the world.
What's unique about this game is that, regardless of its classic-looking aesthetic, you'll be able to play with up to 4 PlayStation buddies at once. You can have four players on the same screen with 4 controllers at home or 4 players total online – that's local or online multiplayer.
This game also expands on what it means to work with a variety of weapons in a tiny pixel shooter by adding 300+ gun parts and "more than 100 knives" to the mix. This game is as much about forging new weapons as it is about murdering your tiny, tiny opponents.
This week we'll also be running down the rest of the games that are coming out on PlayStation 4 through April – this includes Final Fantasy 14, Child of Light, Daylight, LEGO The Hobbit, Outlast, and Trials Fusion – and more, of course.