Mercedes X-Class with 6-cylinder and permanent all-wheel drive debuts in Geneva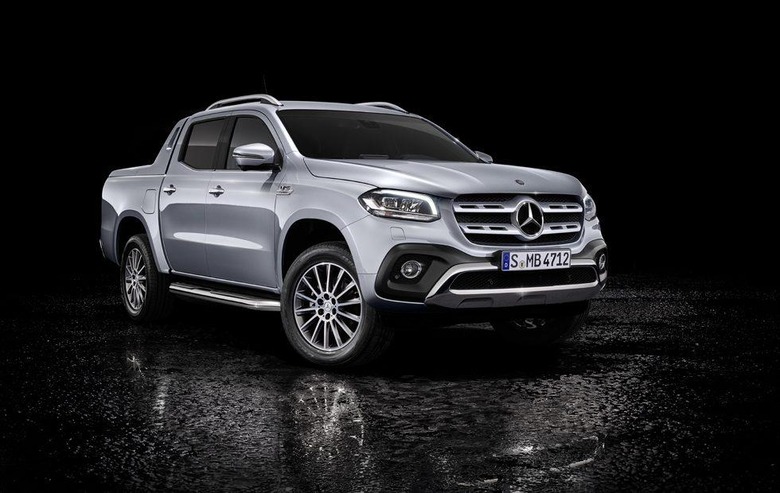 The Mercedes X-class is the cool Mercedes truck that we can't get here in the US. A new version of that truck is debuting at the Geneva Motor Show and it will have a larger engine and permanent all-wheel drive. The vehicle is called the X 350 d 4MATIC and Mercedes says that provisional economy figures are 9.0l/100km.
That engine is a 3.0L six-cylinder diesel engine with common-rail direct injection. It makes 258hp and 550 nm of torque. That torque is available from 1400 to 3200 rpm making for improved off-road driving in difficult conditions. The engine uses a single-stage turbo with variable turbine geometry.
Power goes to all four wheels via a Mercedes 7G-Tronic Plus transmission that doesn't interrupt power during gear changes. Mercedes says that means better handling on uphill gradients and when driving off-road or towing a trailer. The X 350 d 4MATIC has five driver selective DYNAMIC SELECT settings. Those include comfort, ECO, Sport, Manual, and Off-road.
Mercedes also notes that the truck has a 4L low range with reduction gearing of 1:2.9 and a 100% diff lock for the rear axle if needed. The truck has 222 mm of ground clearance. It can ford water up to 600mm deep.
It appears that a raised suspension is optional. The truck comes in Progressive and Power equipment lines. Mercedes is also offering new wheel designs and accessories starting in March.