Mercedes shows off new 2012 SLK55 AMG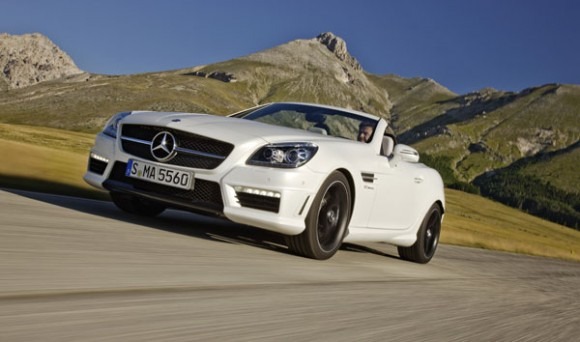 Many of the car companies in the US have been selling 2012 models for half a year already despite the fact that we still have a quarter to go in 2011. Mercedes is offering at least one of its 2012 models in the proper calendar year with the sweet new Mercedes SLK55 AMG two-seater not showing up in the US until early 2012. The little AMG has impressive performance and looks good too.
The SLK55 AMG has a 5.5-liter V8 engine that has cylinder shut off tech to improve fuel economy. The engine is rated for 415 hp and has 398 lb-ft of torque. The car also gets a special AMG suspension to help the car handle better and a high-performance brake system to help the car stop. Mercedes clams that the car can hit 60 mph in 4.5 seconds and has an electronically limited top speed of 155 mph.
The cylinder shut off system will turn the two, three, five, and eight cylinders under partial load to lower fuel use. Mercedes says that this same sort of tech is used in its formula one engines. The engine also uses automatic start stop technology to shut the engine off when the driver stops at a light and automatically start the engine back up when it's time to drive. The transmission is an AMG Speedshift Plus 7G-Tronic automatic that has an automatic rev-matching function when downshifting. The car is a retractable hard top convertible. Pricing is unannounced at this time