Mercedes-Maybach G 650 Landaulet cranks G-Wagon to max-crazy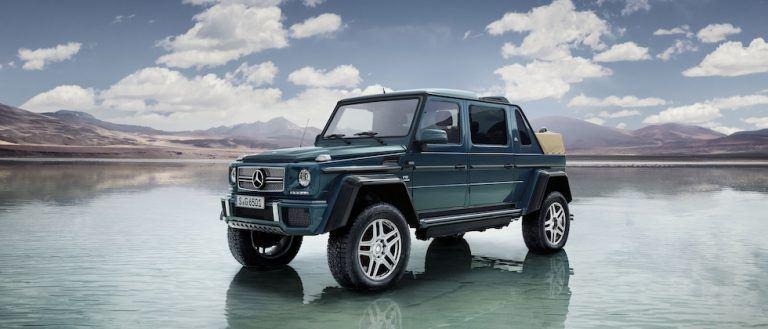 When you're the first SUV to bear the Mercedes-Maybach badge, drivers can guess they're not going to get the usual off-road experience, and the G 650 Landaulet doesn't disappoint. Taking the now-iconic SUV and throwing in not only high-luxe features but a convertible roof and, unexpectedly, portal axels, the limited edition vehicle keeps its go-anywhere reputation. As you might expect from a Maybach, though, the most fun happens in the back.
It may not be the first Mercedes-Maybach convertible in recent memory – in fact, the sub-brand rolled out a drop-top last November – but the key is in the Landaulet name. The driver and front passenger get a regular metal roof over their head. Those in the back, though, get a power-folding soft hood.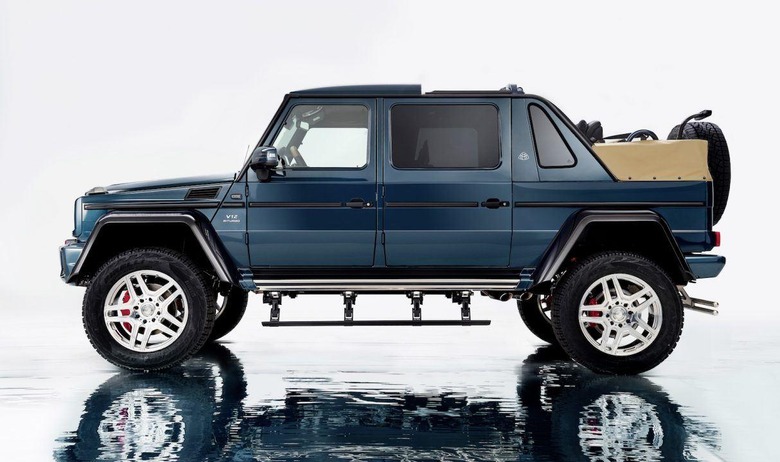 The rear-seat focus doesn't end there. Mercedes-Maybach has transplanted the seats from the S-Class over, which means heating, cooling, and massage functions. There are also matching heated and cooled cup holders (no, they won't massage your cappuccino), twin 10-inch displays for entertainment, and an electrically-controlled glass partition to separate the driver.
Twin tables fold out of the rear center console – Mercedes-Maybach says they can be operated single-handedly – with leather inserts in case you want to practice your penmanship on a suitable surface. Maybe more importantly, the rear seats can recline fully and have a calf-rest that can be adjusted too. A 578 mm longer wheelbase boosts rear legroom.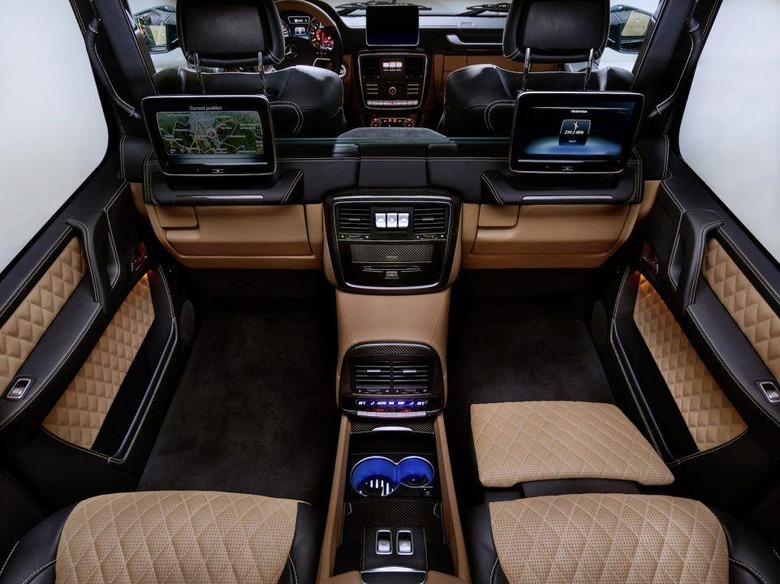 They're finished in Mercedes-Maybach's "designo" leather, with diamond stitching and two-tone color schemes. Three different colors for the fabric top are on offer, and a variety of body colors including the G Wagon favorite, matte finish. Chrome-plating to the front grill and screen help single it out from "regular" SUVs.
The design team even includes "LANDAULET" lettering into the ceramic-polished 22-inch 5-twin-spoke alloy wheels, lest you needed an extra reason to avoid curbing them. Power-sills make climbing in easier, and there are unique underride guards, wheel-arch flares – finished, of course, in real carbon-fiber – and a full-sized spare wheel mounted on the back with the third brake light integrated.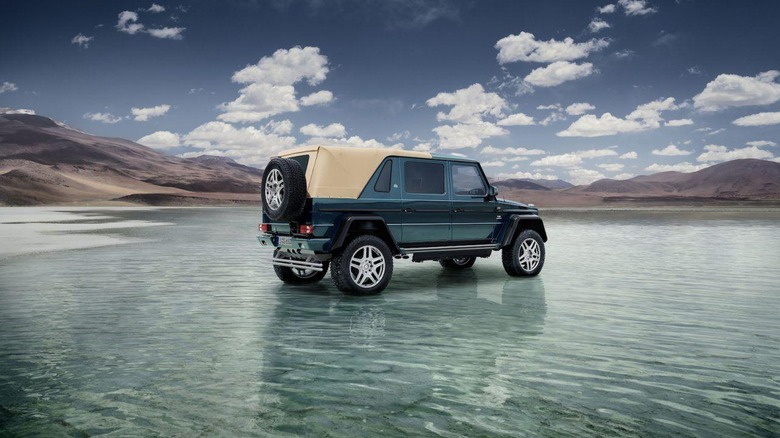 Still, because it's a G Wagon at heart, the G 650 Landaulet can't skimp on the off-road abilities. The 325/55 R 22 tires help, certainly, with 100-percent differential locks that can be switched on while the SUV is moving, plus a low off-road ratio of the transfer case. However, like the AMG G 63 6x6 and G 500 4x42, there's also something very interesting going on underneath.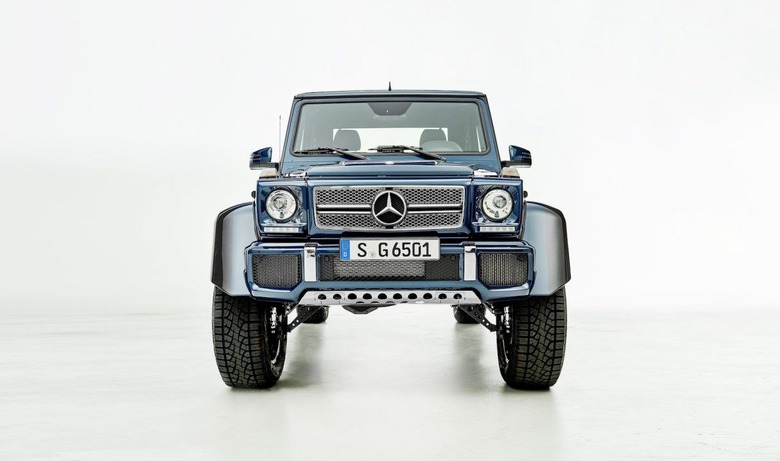 There you'll find portal axels. Thanks to some clever gear arrangements, they basically lower the wheels compared to the axel center, boosting ground clearance to 450 mm. Keeping things running is a Mercedes-AMG V12 biturbo good for 630 HP and 738 lb-ft. of torque.
Mercedes-Maybach will have the G 650 Landaulet specially made in Magna Steyr in Graz, Austria, alongside the other G-Class SUVs. Sales will kick off – at an unspecified, but likely vast – price at the Geneva Motor Show next month. Act fast, though: only 99 will be made.