Mercedes GLC F-Cell has electric and hydrogen power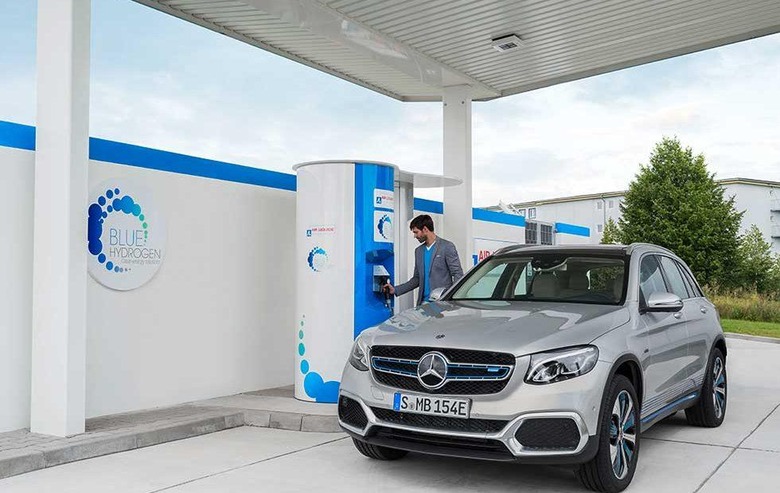 Mercedes is showing off a pre-production version of the GLC F-Cell at the IAA International Motor Show in Frankfurt. The GLC F-Cell is said to be destined for series production and is the first emission free vehicle in the world to combine fuel-cell and battery technology as a plug-in hybrid vehicle. There will be a full electric version of the SUV as well. The GLC F-Cell can hold 4.4 kg of hydrogen on board and has range of up to 437 km per tank of hydrogen.
The vehicle is also able to drive up to 49 km on electricity alone thank to the large lithium-ion battery. GLC F-Cell buyers will have 147 kW of power on tap, which converts to about 200hp. Mercedes notes that compared to the B-class F-Cell vehicle that has been available since 2010, the GLC F-Cell has a drive system with 40% more output and up to 30% more compact than before.
The lithium-ion battery pack in the pre-production GLC F-Cell has 13.8 kWh of power. That battery pack can be charged externally using 7.2 kW onboard chargers using a standard home power outlet. Charging time is about 1.5 hours for a completely dead battery. The hydrogen storage tanks are made from carbon fiber. Since the car has no drive shaft, the second hydrogen tank can go under the rear seats.
GLC F-Cell has various operating modes and drive programs with ECO, Comfort, and Sport. The vehicle also has a hybrid mode that allows the use of the battery and fuel cell at the same time. Battery mode lets the vehicle run on the battery alone. A Charge mode gives the battery priority and the car can recover energy during braking or coasting to store in the battery.
The vehicle also has lots of safety tech with Active Distance Assist DISTRONIC, Lane Tracking Package with Blind Spot Assist and Active Lane Keeping Assist, Parking Package with a 360-degree camera, and more. Mercedes says that by 2023 Mercedes and its partner will have 400 hydrogen filling stations with plans to roll out similar infrastructure projects in Europe, Japan, and the US.
SOURCE: Daimler