Mercedes G-Class interior updated marking biggest update in 40-years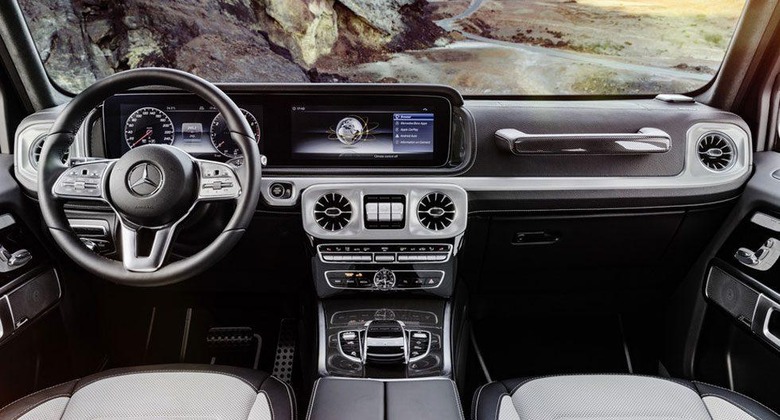 The venerable Mercedes G-Class has been around since 1979 and the design and style of the vehicle has stayed basically the same since the introduction of the vehicle. Mercedes has unveiled the interior of the new G-Class and says that this is the most significant transformation in the 4-year history of the vehicle.
The interior is a very swanky place now with two-tone leather available and lots of shiny silver, wood trim, and other nice touches. The interior looks like it is meant to be inside a very expensive and luxurious SUV. The new interior gives drivers full control over the infotainment system without taking hands off the steering wheel.
The wheel also has touch-sensitive Touch Control Buttons on it that respond to swiping motions common on smartphones. The gauges are analog dials and the entire instrument panel is redesigned. Buyers can get an alternative instrument panel with a large screen showing virtual instruments. The optional instrument cluster has a pair of 12.3-inch screens with a shared glass cover.
These instruments can be arrayed in three styles including classic, sport, and progressive. Mercedes is fitting every G-Class with a Schöckl badge because the vehicles are tested on the mountain. The revised G-class is larger giving more space inside for gear and passengers.
Front legroom increased by 1.5-inches and rear legroom is up 5.9-inches. The rear seats fold down to allow more cargo hauling capability. Seats are offered in Lugano leather in black, nut brown, and Macchiato beige. Exclusive Interior and Exclusive Interior Plus are available with seven more colors and two-tone options including white, blue, and red.
[gallerey]
SOURCE: Mercedes