Mercedes' futuristic headlights can project symbols onto the road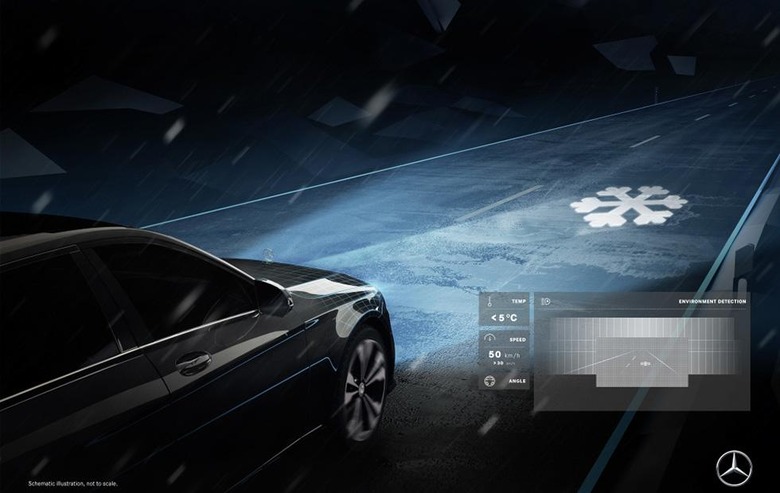 During the first half of this year, some Mercedes-Maybach customers will receive the first batch of Mercedes-Maybach S-Class vehicles featuring Digital Light, the automaker's futuristic headlights. Daimler announced the plans today, saying the technology is set to enter small series production with the aforementioned S-Class model. The technology will be showcased at the Geneva Motor Show.
Digital Light headlamp technology is comprised of a main beam with a 2,000,000+ pixel resolution and HD quality (more than 1m pixels per headlight). Vehicles equipped with this technology will be able to offer drivers the ideal light conditions for any given situation.

As well, the headlamp technology keeps "dazzling" issues to a minimum — that is, the headlights work to avoid blinding other drivers, a growing problem among modern vehicles. Digital Light's output exceeds the maker's Multibeam LED headlamp precision and involves a chip with more than one-million micro-reflectors per headlight.
Daimler explains that sensors and cameras in the vehicle work to detect other drivers and people on the road while computers combine that info with navigation maps to rapidly send commands to the headlamps. These commands ensure the headlamps adapt ideally to any given situation in which the driver is traveling.
As if that weren't interesting enough, Digital Light can also project symbols onto the road at an HD level of quality. The feature serves to transmit information that could help the driver, such as two projected guide lines to help a driver travel through a construction site, a projected arrow pointing toward a pedestrian who is within the car's danger zone, as well as symbols like speed, lane-keeping, rear-end collision, low-grip, and blind spots.
SOURCE: Daimler