Mercedes CLA Shooting Brake Packs Up To 211hp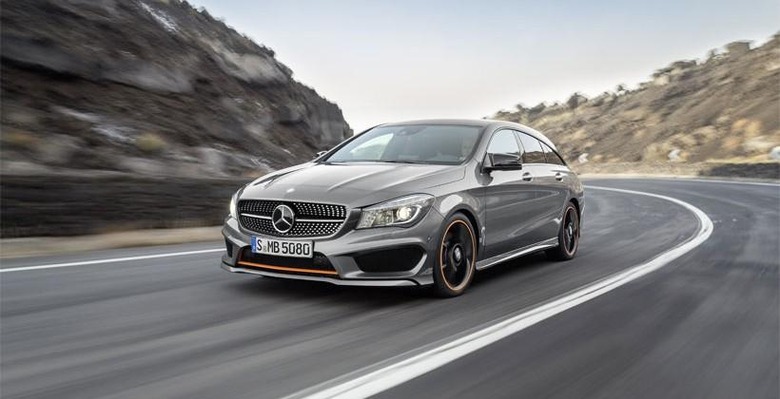 Mercedes has rolled out a new vehicle that will be going on sale in January 2015 and landing in the first customer hands in March 2015. The new car is called the CLA Shooting Brake. A shooting brake is a vehicle we call a station wagon in the US, but this isn't that station wagon your aunt had back in the 80s. The CLA is a modern wagon that has good looks and impressive engines that will be available in several models.
Mercedes gave the CLA Shooting Brake a lower overall height compared to the coupe and an elongated coupe-style roof contour line. The car is 4630 x 1777 x 1435 mm (LxWxH) and will come initially with five engine options. Those options include a pair of diesel engines and three gas engines. A version of the car with Mercedes 4Matic all wheel drive will be offered.
The version of the car pictured here is the limited-edition OrangeART Edition that has orange highlights around the bi-xenon headlights, rim flanges, and lots of orange and black inside the car. The shooting brake style of the car gives you up to 1435 liters of storage space with the back seats down. The diesel versions of the car includes the CLA 200 CDI and CLA 220 CDI each using a 4-cylinder diesel engine producing 136hp/300nm torque and 177hp/350nm torque respectively.
The gas versions include the CLA 180, CLA 200, CLA 250, and CLA 250 4Matic. They all use 4-cylinder gas engines displacing 1595 cc or 1991 cc. Power output is 122hp, 156hp, and 211hp respectively. This seems like a large car for such low powered engines. An AMG version of the car has been unveiled packing significantly more power. Pricing is unknown as is availability outside Europe.
SOURCE: Mercedes