Mercedes celebrates F1 championship with hopped up SL 63 Roadster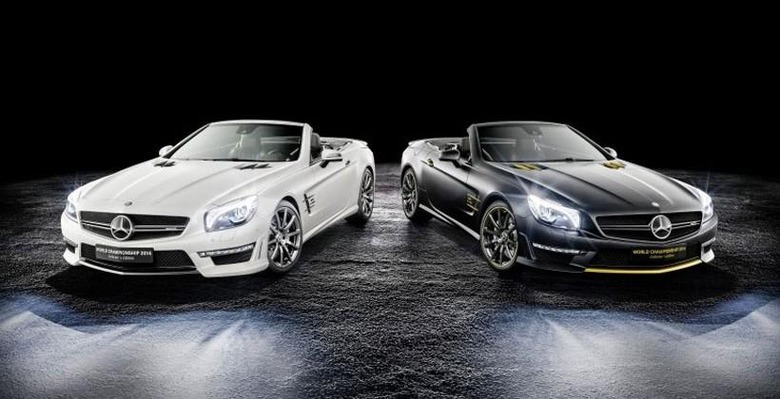 F1 is one of the most popular motorsports in the world and Mercedes had a bang up year in 2014. The team's two drivers placed first and second in the Drivers Championships and Mercedes grabbed the top spot in the Constructors Championship. To celebrate the success of the season Mercedes has cooked up some customized and hopped up SL 63 AMG roadsters.
The cars were co-created with help from Mercedes drivers Lewis Hamilton and Nico Rosberg and only 38 units will be built. The Hamilton car is painted a special shade of black with gold highlights on front and rear bumpers and chrome black exhaust pipes. Inside the car gets black leather and contrasting gold stitching.
The Rosberg SL is white on the outside with grey used for door handles, spoiler, and running light surrounds with grey leather inside. Both versions of the car have the same power level. The 5.5L V8 produces 585hp for both cars, a bump from 530hp for the stock SL 63.
The cars also get a higher top speed bumped from 155mph on stock versions of the car to 186mph. Each of the 38 cars will have a different racetrack embroidered on the floor mats. These limited edition exotics will sell for $393,287 each and will be delivered at the 2015 German Grand Prix.
SOURCE: Gizmag