Mercedes-Benz Concept S-Class Coupe With V8 Biturbo To Be Intro'd At IAA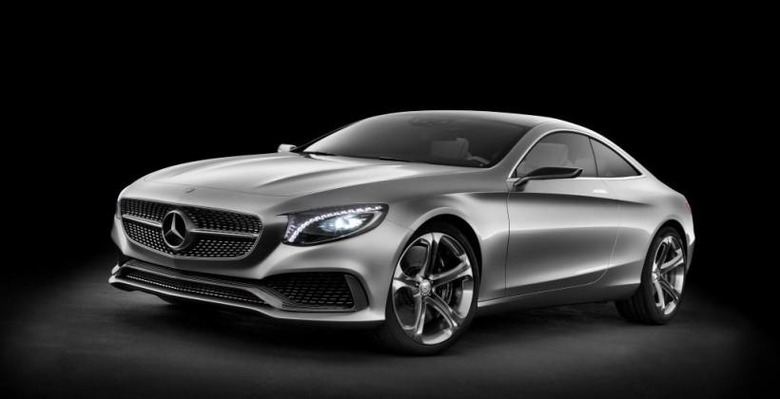 Mercedes-Benz plans to show off its Concept S-Class Coupe at the International Motor Show in Frankfurt. With the Concept S-Class Coupe, Daimler says "sensual clarity" was used as a focal point for the designers behind it, with the styling said to be a mixture of both emotive and traditional elements. Added into the mix is a V8 Biturbo engine and an infotainment system with MoodGrid software.
As far as the exterior design goes, the Concept S-Class Coupe features 21-inch wheels housed in an accentuated wheel arch, with the car's overall "rear-wheel drive proportions" being emphasized using Mercedes-Benz's common signature design elements. The headlights are full LED offerings, with the "eyebrows" serving as day time lights.
The license plate has been moved to the lower section of the bumper, meanwhile. Moving inside, the Concept S-Class Coupe has a design marketed by simplicity, according to Daimler, with a white instrument panel that has a sculpted lower portion that results from changes to the airbag packaging, with the entire design "flowing" into the doors.
There's a touchscreen display inside with four world clocks in the center console, with the command unit being crafted using a "black diamond" surfacing. The door panels, meanwhile, are made from aluminum, and various color arrangements allow for customization. The Concept is equipped with Intelligent Drive with a couple of camera eyes, as well as 6DVision. As mentioned, there is also an infotainment system running MoodGrid software.
Said Mercedes-Benz Sales and Marketing board member Dr. Joachin Schmidt: "The new S-Class Saloon was received enthusiastically in the market and perfectly lives up to its role as a representative of the power of innovation of Mercedes-Benz. On the S-Class Coupé as the traditional top of our product range the designers take advantage of their additional freedom and thus create an automotive masterpiece."
SOURCE: Daimler