Mercedes-AMG rumored to be at work on SLR successor with 1035bhp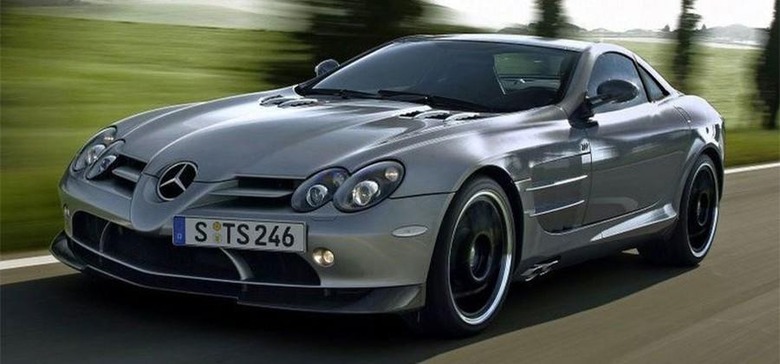 One of the coolest cars that Mercedes ever made was the Mercedes SLR with its big V8 and gull wing doors. Rumors are flying that Mercedes is working on a successor to the SLR that is expected to bow in as a 2018 model. There are two different rumors floating around hinting at what the SLR successor might be like and both of them are very interesting.
The milder of the rumors suggests a front engine, rear-wheel drive car packing somewhere around 641bhp from a turbo V6 and hybrid power. The car is tipped for aerodynamic body parts and a "new door concept." Presumably, that would mean no more gull wing doors such as those on the old SLR.
Rumors suggest that Mercedes-AMG would make about 3,000 units per year with a price as high as €300,000 each. The second, and much more interesting, rumor is that Mercedes-AMG is looking at a mid-engine SLR with lots of carbon fiber using a big turbo V8 and a hybrid system.
This rumor claims that the total power output with the turbo V8 and electric motors would be somewhere around 1035bhp. This rumor would produce a car that could fight it out with other hypercars like the McLaren P1, LaFerrari, and Porsche 918. Production would be no more than 750 units at a price near €1 million.
SOURCE: World Car Fans