Mercedes-AMG CLA 35 4Matic is four-doors of family performance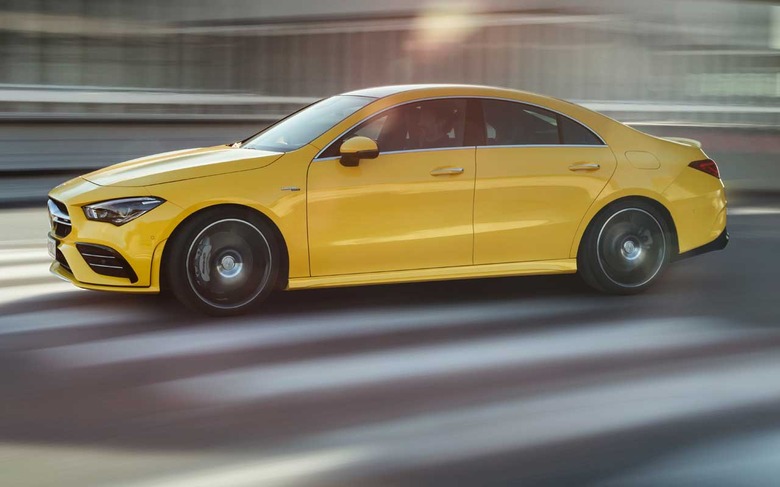 Mercedes pulled the wraps off the Mercedes-AMG CLA 35 4Matic this week, and it looks enough like the Mercedes-AMG A 35 4Matic that you may need a double take. The CLA 35 4Matic is a four-door coupe according to Mercedes, and it shares the same engine as the A 35 uses.
That means a turbo four-cylinder that makes 306hp and 400 Nm of torque. The engine uses a twin-scroll turbo and has variable valve control. Power goes to all four wheels via an AMG Speedshift DCT 7G dual-clutch transmission.
The CLA 35 gives up a slight bit of performance to the A 35 reaching 100 km/h in 4.9 seconds compared to the 4.8 seconds the A 35 needs. CLA 35 buyers get a sporty interior with MBUX infotainment system. That infotainment system has the MBUX interior assistant that recognizes movement towards various elements of the infotainment system.
The car also supports the "Hey Mercedes" voice assistant tech. The instrument cluster is fully digital and has three AMG styles with Classic, Sport, and Supersport. The latter mode has a central, round rev counter and three other bars with info to the left. CLA 35 offers the new AMG steering wheel with optional buttons as standard. Five different driving programs modify vehicle characteristics as needed with settings for slippery, comfort, sport, sport+, and individual.
Other features include AMD ride control suspension and active damping with three modes. The brakes are 4-piston front and single piston rear units with ventilated discs to help with heat and prevent fading. AMG Track Pace system is optional to record lap times and data. Pricing on the vehicle and options are unannounced; the CLA 35 will launch April 29.