This 2,700hp Mercedes-AMG x Cigarette Racing 59' Tirranna yacht blew my mind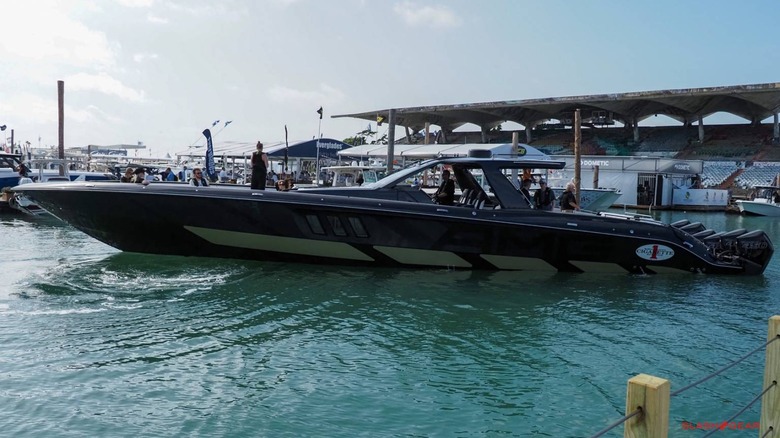 Mercedes-AMG and Cigarette Racing have a long history of creating high-performance racing boats, but few are as striking as this year's Miami International Boat Show specials: the 59' Tirranna AMG Edition, and its one-off Mercedes-AMG G 63 Cigarette Edition SUV cousin. From that point, I didn't know where to look first: should I feast my eyes on Mercedes-AMG's newest racing boat, or should I ogle at the newest G 63? Since the new 59' Tirranna AMG Edition was still out on the first run giving journalists a test ride, I spent some time with the Mercedes-AMG G 63 first.
Sure, I'd come all the way to Miami to experience the 59' Tirranna AMG Edition first-hand, but it's hard to ignore the G 63 Cigarette Edition even when it's parked at a distance. As I got closer, the depths of the glossy, black metallic finish contrasted with the gold AMG patterns on the sides grew more obvious. If there's a vehicle more worthy than this for pulling up at the yacht club, at least as long as you have the 59' Tirranna AMG Edition waiting for you there, I'm not sure what it would be. New 22-inch cross-spoke AMG forged wheels with gold accents on the wheel center caps and rim flange join the AMG Night Package, which adds its dark chrome AMG-specific radiator grille and bull-bar. Matching gloss black logos, along with side entry boards in matte dark finish, round things out nicely.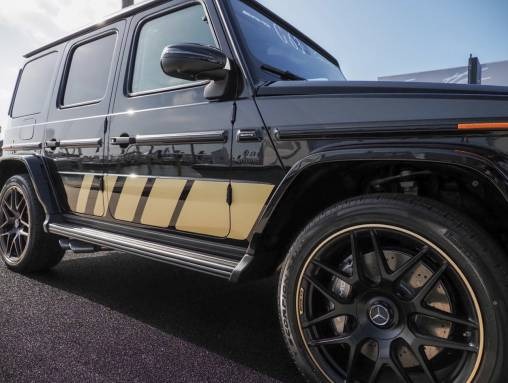 Inside, though, it's an unexpectedly different story. Rather than a murdered-out cabin, this one-off G-Class has the same two-tone theme as the 59' Tirranna AMG Edition. That means genuine macchiato beige and dark blue Nappa leather upholstery, while the new AMG performance steering wheel is also finished in matching dark blue Nappa leather and carbon-fiber.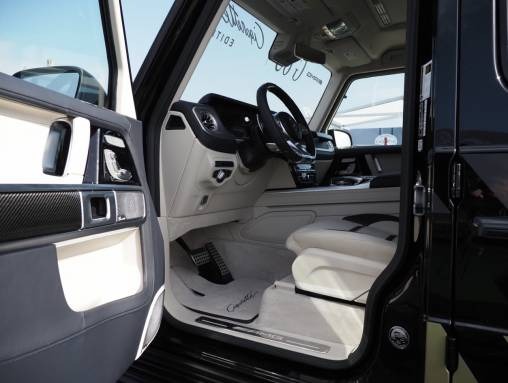 Cigarette lettering on the floor mats and grab handle complete the tie-in. "Since 2007, we've shared our passion for performance with the Cigarette Racing Team," said Tobias Moers, Chairman of the Board of Management of Mercedes-AMG GmbH. "The exterior and interior of this one of a kind G-Class Edition was tailor-made in our Performance Studio in Affalterbach underling the high-performance appearance of the Mercedes-AMG G63."
Along with the brutish appearance is a proper brute of a motor, courtesy of a 4.0-liter bi-turbo V8. Producing 577-horsepower and 627 pound-feet of torque, it comes with a rear-biased all-wheel-drive system that feeds 40-percent of torque to the front and 60-percent to the rear wheels. It also has three differential locks for added off-road prowess, along with AMG Ride Control suspension that adjusts the damping forces at each individual wheel.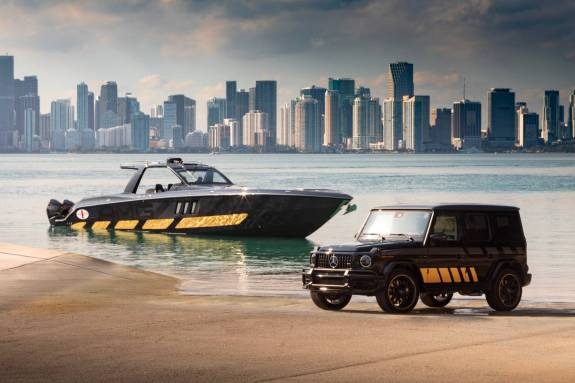 Impressive, certainly, but still overshadowed by the boat. Based on Cigarette Racing's 59' Tirranna – part of Cigarette's lineup of performance center console boats that includes the 41' GTR Reserve and 42' Huntress – the special-edition is built for high-performance agility despite its length. Outside, there's the same black metallic exterior contrasted by a gold AMG design diamond pattern as on the G 63 Cigarette Edition. "Mercedes-AMG stands for Performance Luxury," said Gorden Wagener, Chief Design Officer at Daimler AG. "The Tirranna AMG Edition is the perfect transfer of this principle to a boat: its dynamic and at the same time deeply sensual proportions embody athletic beauty."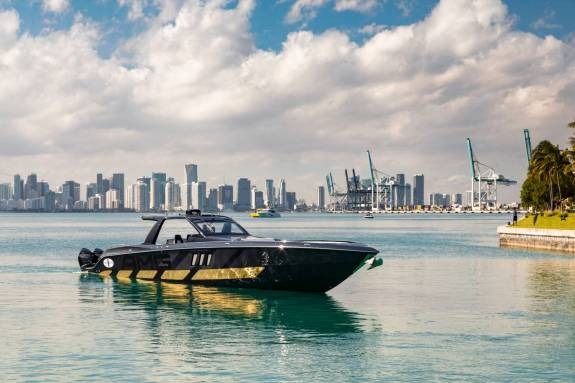 Pretty boats aren't rare, but the 59' Tirranna AMG Edition is more than just a thing that looks great on the water. Cigarette Racing replaced all the heavy bits and turned instead to high-tech composite materials, for example; the raked hardtop roof, for instance, is now crafted from carbon-fiber. Not only does that reduce weight, but it also significantly reduces the vertical center of gravity. That pays dividends in the boat's super-crisp handling over smooth or choppy waters.
More carbon-fiber was used for the superstructure, including a carbon-fiber transom and carbon-capped stringers. Cigarette Racing boats are known for having race-style rigging and efficient hull designs, and the same holds true in the 59' Tirranna AMG Edition. But, since we're still talking about a certified AMG model, Cigarette Racing vacuum infused the hull and deck using composite laminate scheduling with PVC coring. Even the controls are special, with a custom instrument panel with titanium fasteners. The entire console is a nano-coated solid surface that offers anti-reflective and heat-resistant properties. "The 59' Tirranna AMG Edition remains true to our proven racing DNA while embodying the next level of luxury and performance to once again redefine the expectations of our discerning customers and set a new benchmark," said Skip Braver, CEO of Cigarette Racing Team.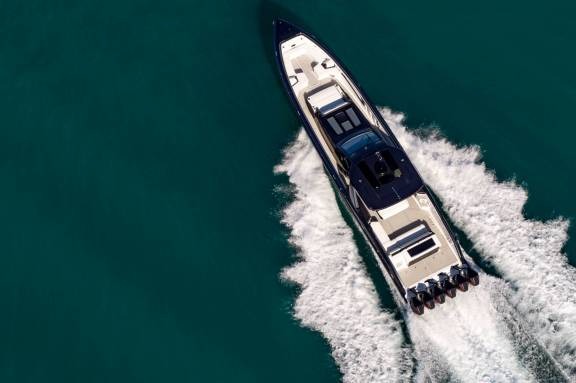 You can't really miss that from the rear. There, six supercharged motors give the 59' Tirranna AMG Edition its get-up-and-go: three pairs of Mercury Racing 450R outboard V8 engines. Boasting 4.6-liters of displacement, each engine produces 450 peak horsepower at the propeller shaft. It doesn't take a mathematical whizz to confirm a combined output of 2,700-horsepower, and that's good for a top speed of 80 mph, which in boat terms is pretty damn quick indeed. On our first run out, we clocked in at over 71mph while on the way back we sped up quickly to 52mph.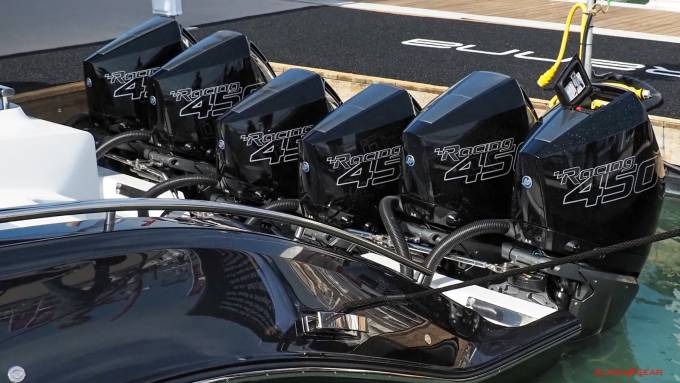 Skip conscientiously suggested that I sit at the back if I wanted a smoother ride. I'm the kinda guy that doesn't mind waiting a few extra minutes at the amusement park just to get the first seat on a rollercoaster, though, so I politely thanked Skip and claimed a spot in the front left side instead. Acceleration was rapid and, being on water, that's not an easy task for a boat this size, let alone keeping things smooth at proper racing pace. While the expression forced onto my face might not indicate it, the ride was still smooth enough for me to operate my phone and 360 camera, with only a little more effort than usual.
Up to 26 people can be ferried at once, courtesy of the unique center console design. They'll undoubtedly appreciate Cigarette Racing's proprietary gyrostabilizing system, Seakeeper: that promises to reduce body roll by up to 80-percent. Switched off, we "rocked" with the waves which, to put it lightly, ain't fun at all. When switched on, everything felt even; if you struggle with motion sickness, the $100,000 for this system is a no-brainer. With standard bow and stern thrusters, meanwhile, you can easily dock the huge behemoth at any posh yacht club.
With the captain occupied with those twenty-seven hundred horses, it was time to relax in the boat's macchiato beige and dark blue leather-covered cabin. Below deck, there's a large handcrafted sofa, an equally large TV, and a fridge dressed up as a cabinet. There's also a California king-sized bed and an enclosed bathroom with separate showers. The cabin is filed with premium leather and stainless steel while standard skylights allow natural rays to flood the interior.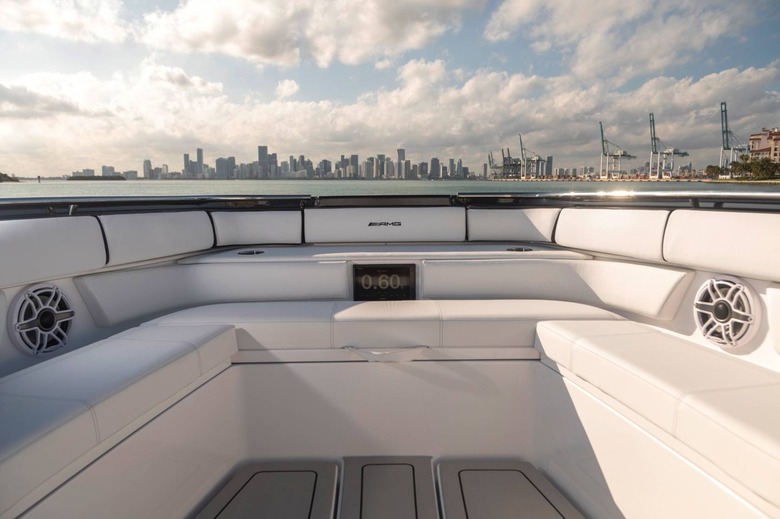 If the sun gets too harsh (or if privacy is required), the sky blinds will block out excess light. The boat has three windows on each side of the hull to provide a nice view of the sea. When it's time to party – which in this boat probably means every single time aboard – your eardrums will love the 5,200-watt, 29-speaker sound system specially created by JL Audio Marine.
I'm used to supercars trying to straddle the luxury and performance line, with varying degrees of success, but nothing quite prepared me for the excesses of the yacht world. This sort of speed in a vessel that also comes outfitted with a summer kitchen with a standard grill, sink, and food prep station, plus electrically-sliding forward and aft-facing lounges that can shift to create a commodious sun lounge, is mind-blowing. When it's time to wine and dine, electronic tables surge into place, and like just about everything else you can summon them via an iPad or from the bevy of switches and controls throughout the vessel. The same goes for the RGB accent lighting.
By the time I was back on land, I couldn't decide whether the $3 million price tag for the 59' Tirranna AMG Edition was still mind-boggling or in fact a bonafide boat bargain. Either way, it's more than deserving of the AMG badge.