Memoto Lifelogging Camera provides searchable and shareable memories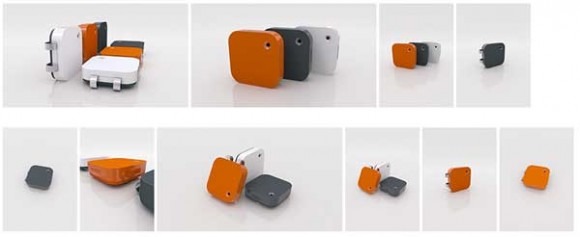 There's no shortage of wearable cameras on the market today. Typically, these are video cameras able to record and share video about your day-to-day life. The Memoto Lifelogging Camera is one of the smallest cameras of this sort that I've seen and it takes photographs rather than video.
The tiny camera also has GPS inside and has no controls. It automatically takes photographs as the user goes about their day. The camera works with a Memoto app that automatically organizes photographs taken for you, making them searchable. The camera is designed with no buttons the user has to press or operate.
As long as the camera is worn, it will take pictures. The photographs taken are associated with information on when and where the photo was taken allowing users to revisit moments from the past. The little camera measures 36 x 36 x 9 mm and has a built-in clasp to attach to your clothing. The internal rechargeable battery promises two days of use per charge, and the battery recharges via USB.
When the Memoto is connected to your computer to recharge it automatically uploads photos to the Memoto servers. That last part might bother some people with their photographs going to the company's servers rather than being saved to their own computer. The camera captures five megapixel resolution images every 30 seconds as long as it's worn. It has an integrated accelerometer to orient the photos correctly, no matter how the camera is worn. The project is on Kickstarter seeking $50,000, and as of writing, it has raised $47,447 with 38 days to go.