Meld retrofits your dumb stove for smart home cooking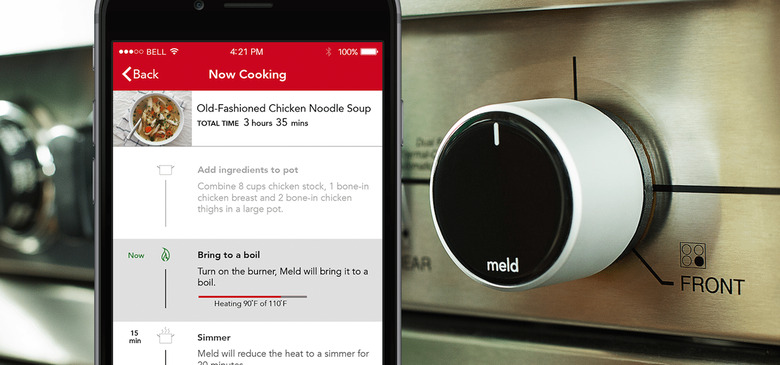 As the lackluster take-up of WiFi-connected refrigerators suggests, upgrading kitchen appliances with their smart equivalent is still a small market, but how about if a simple retrofit could give your stove some intelligence? Meld attempts to do just that, a combination replacement knob for your stovetop and a wireless temperature sensor that, together, can automate the cooking process according to a recipe running on the iPhone app. Meanwhile, it's counting on fashionable methods like sous-vide to give it some kitchen geek appeal.
Meld consists of two main components. The Meld Knob replaces one of the regular cooktop knobs, automating it in the process, so that the app can remotely-control your gas or electric stove.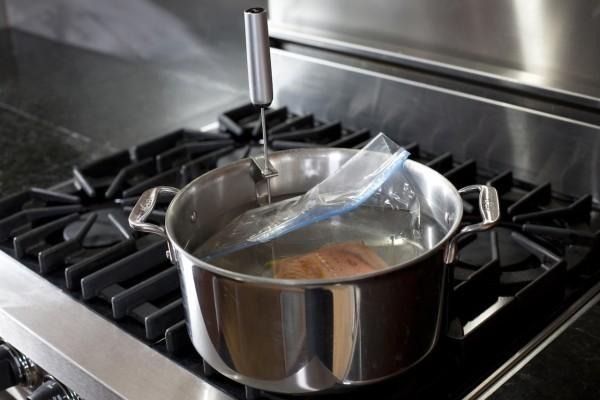 It does that based on feedback from the Meld Clip, a thermometer which attaches to existing cookware and pipes real-time temperature readings across.
Accompanying them both is an iPhone and Android app – still in development, Meld says – which contains the recipe database. That's expected to run the gamut from traditional slow cooking of lamb shanks and chili, through tricky poached foods like eggs and salmon, to sous vide of ribs and steak, and even candy making, where the sugar temperature has to be precisely controlled.
Recipes can be created by users themselves, complete with custom timing schemes, or you can bypass a recipe altogether and just use Meld to more precisely keep to an ad-hoc temperature. Twisting it manually and wresting control back yourself is also possible.
Power comes from AAA batteries, they're waterproof for easy cleaning, and there's no permanent installation, so renters can get involved too. Bluetooth LE is responsible for all the interconnectivity.
Meld is looking for $50,000 before May 8th on Kickstarter, and if all goes to plan the first Knob + Clip sets should be shipping in October this year. $99 gets you on the first reward tier with hardware.
SOURCE Meld