Meizu M1 Note tries to appeal to a younger generation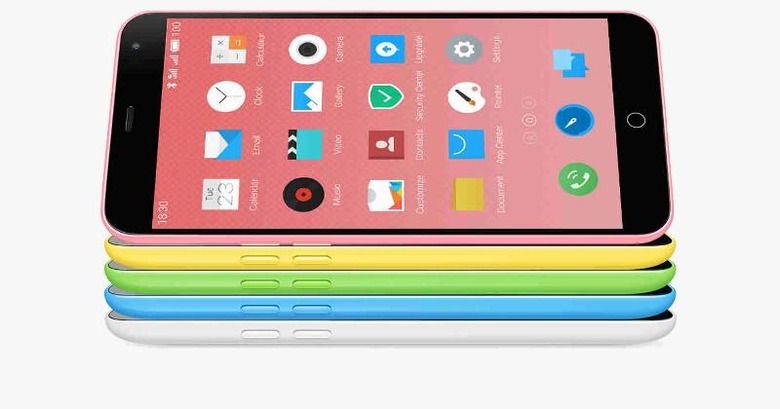 Let's face it. Yesterday's smartphone crowd are pretty much today's young professionals. It is to these pioneers that most manufacturers are trying to woo with their dead serious models. Meizu, on the other hand, wants to make sure that nobody gets left out, that even today's young ones get a taste of a device that is serious on the inside but has personality on the outside. That seems to be the unspoken spiel for the new Meizu M1 Note, a more colorful take on the mostly black, white, and gray smartphone market.
In terms of specs, the M1 Note is pretty much what you'd expect to come from the region, that is, a strange mix of components. The display is a 5.5-inch Full HD screen. But more than that common description, Meizu wants everyone to know that it is a screen made by Sharp and uses Sharp's own IGZO technology. The CPU and GPU that drives it, on the other hand, is made by MediaTek, popular for its cheaper chips. This one is the MT6752, a 1.7 GHz octa-core that boasts of a 64-bit architecture. The device also has plenty of battery in a 3,140 mAh pack, promising 12 hours of 4G web surfing and 60 hours of non-stop music.
Those are probably the most notable features in the spec sheet. The rest of hardware is common fare on a high-end smartphoe. 2 GB of RAM, 16 or 32 GB of storage, depending on the configuration 4G + 2G Dual SIM Dual Standby that is bound to make it popular in the region, a 13 megapixel rear camera from Samsung, and a 5 megapixel wide-angle F/2.0 front shooter for selfies.
So what is so special about the Meizu M1 Note? The Chinese OEM definitely wants to sell its vibrant colors that aim to give the device a bit more character than normal. Of course, that has also been done before, and we cannot but help see the iPhone 5c in the M1 Note. It doesn't help that the phone is made from polycarbonate plastic too. And despite the "Note" in the name, there is no stylus to speak of. Xiaomi seems to have started the deconstruction of the stylus-oriented Note brand that Samsung has tried to push.
But for those in China, price will also set this phone apart. The 16 GB model will only cost 999 RMB, around $160, while the 32 GB one costs 1,199 RMB to the tune of $192. That's definitely a deal if you have no qualms about the choice of CPU brands. The Meizu M1 Note starts pre-orders in China today, with retail scheduled for December 30.
SOURCE: Meizu