Megaman descendant Mighty No 9 headed to PS3, Xbox, Wii U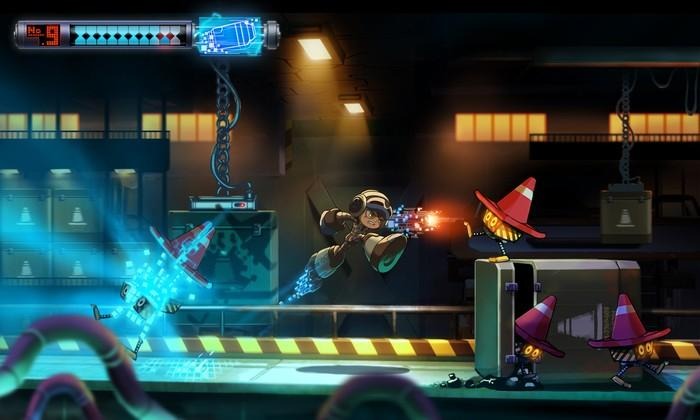 In the annals of Kickstarter history, Mighty No. 9, the descendant of much-beloved Megaman, has achieved widespread success, hitting and quickly surpassing its first goal, as well as a few after it. Now it has hit another milestone, and the announcement has been made that the game will be coming to the Playstation 3, the Xbox 360, and the Wii U, as well as availability through Steam.
The announcement came once the Kickstarter campaign hit its latest milestone, the $2,200,000 mark. Those hoping for a PlayStation 4 and Xbox One version will have to keep hoping for the time being, with that achievement set at the substantially higher price of $3,300,000. Between those two milestones lie several others, however.
Once hitting the $2,400,000 – $2,750,000 points, a challenge mode, extra end-stage and box, and Beck & Call online co-op challenge mode will be tossed into the mix. The next two price points leading up to the PS4 and Xbox One versions have question marks in place, so users will have to wait and find out what those stand for — assuming it reaches that far.
The original goal of the crowd-funding campaign was $900,000 USD, with it currently sitting at $2,233,509 courtesy of 38,899 backers. There are 14 days remaining, so it is anybody's guess how many more milestones it will hit before its time is up, and it is certainly possible we could see those Xbox One and PlayStation 4 versions become a reality.
For those unfamiliar, Mighty No. 9 is a side-scrolling action game following on the foundation laid by Megaman, offering both components from 8-bit and 16-bit era games that rest fondly in the hearts of many gamers while tossing into the mix what modern games do best. Players play as Beck in a world where a computer virus of mysterious origins has caused all the mechanized beings in the game "to go berserk".
SOURCE: Kickstarter