Mega Man 11 revealed for late 2018 release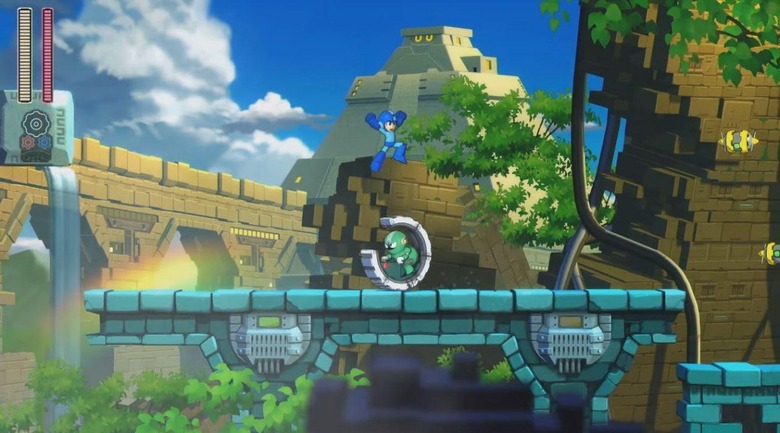 It's been a long time since we've had a proper Mega Man game, but that's all going to change next year. During Capcom's 30th Anniversary livestream for the Mega Man series today, the company revealed Mega Man 11, continuing the mainline series that first started on the NES back in 1987. We had a feeling that Capcom was going to announce something during the livestream, and given the nature of the celebration, perhaps we should have assumed that Mega Man 11 was on the way.
In any case, Mega Man 11 is going to look quite a bit different than games fans are used to. Instead of the pixel graphics that grace all of the other games in the main Mega Man series, Mega Man 11 will offer more modern visuals. In that respect, it almost seems like something similar to Sonic Generations, which attempted to recapture to magic of early Sonic the Hedgehog games during the Blue Blur's 20th anniversary.
Details are pretty much non-existent at this point, owing to the fact that Mega Man 11 won't be out until sometime in late 2018. Capcom did give us a minute-long announcement trailer, which you can see below. Even though it doesn't show us much, what's there should be more than enough to get Mega Man fans excited.
Even better is the number of platforms Mega Man 11 will launch on. Capcom announced that Mega Man 11 will come to Switch, PC, Xbox One, and PlayStation 4, so as long as you have something in the way of current-gen hardware, you'll be able to play it.
On top of this, Capcom also revealed that it will re-release all eight Mega Man X games sometime next year, and that both Mega Man Legacy Collections will be coming to Switch within 2018 as well. At the end of it all, 2018 is going to be a pretty packed year for Mega Man fans, especially Switch owners who would like to fill our their libraries with Mega Man's greatest hits.