Pocketalk, the Voice Translator in Your Hand - Useful but costly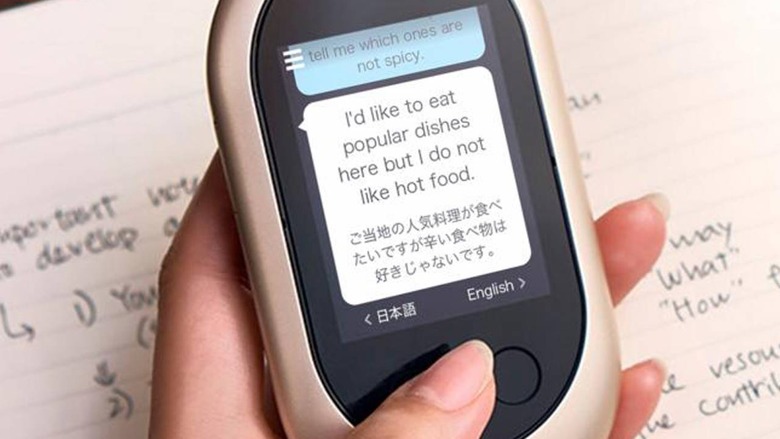 There is a new foreign language translation device available for travelers and business people alike. The second iteration of Pocketalk, developed by Sourcenext, Japan's foremost developer of software, hardware and IoT products is meant to facilitate quick and easy conversation. A simple interface that is easy to use, Pocketalk translates between 74 languages and counting, in close to real-time.
Pocketalk is small at 3.5 oz. and meant to be stashed in your pocket or hung on a lanyard around your neck for effortless access. Portable Pocketalk was designed for the purpose of translating conversations at a rate of up to 30 seconds of speaking per translation.
After setting the two languages, hold down the button that corresponds to the language being spoken – Pocketalk will recite the translation upon release as well as display the text on the Home screen. You are able to press the other button and speak for relatively fluent, bi-directional conversation. The dual microphones and speaker are better than most smartphones with noise cancelling technology in more bustling environments.
Pocketalk requires a connection to the internet in order to work and accesses robust language engines and cutting edge cloud technology that Sourcenext touts as more accurate than Google Translate. With the use of AI, the translation engine improves the accuracy of the speech recognition and two-way voice conversions over time.
Pocketalk can be ordered online or at b8ta stores in select US cities as "add my own data" for $249. The company suggests purchasing the "built-in data" version for $299 which includes 2 full years of unlimited data with no monthly fees and a Global SIM Card provided by Soracom – ready for use in 126 countries. The box contains a charging dock and USB Type-C charging cable with other accessories available.
Pocketalk misses a few words here and there in the beginning, but overall, does a good job translating. This utilitarian gadget makes chatting, asking for directions or ordering from a menu fast and fun – for a chunk of change though.