Medion Akoya "The Touch" X9613 touchscreen all-in-one [Video]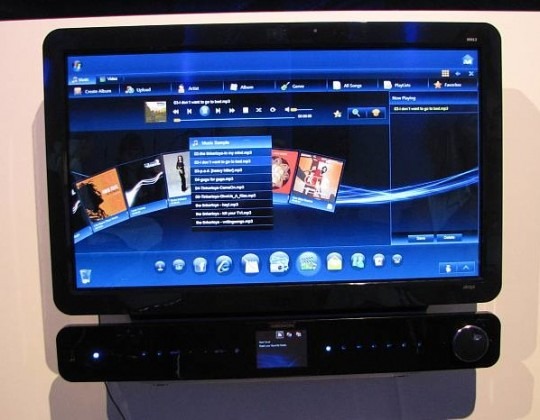 Medion have unveiled a new all-in-one PC, the oddly named Akoya "The Touch" X9613.  Based around a 24-inch multitouch-capable touchscreen, rather than stuff the X9613 full of nettop components Medion have taken the far more sensible route and used Intel's 2.0GHz Core 2 Quad Q9000 CPU with 4GB of RAM, NVIDIA's GeForce GT 240M graphics card and a Blu-ray drive.  Newgadgets were on hand to grab a live demo video, which you can see after the cut.
Video demo after the cut
That combination is good for 1920 x 1080 full High Definition, and Medion throw in both an HDMI input and output, SCART and VGA inputs, and three TV tuners (DVB-T, DVB-S and analog).  There's also a 1TB hard-drive, eSATA, S/PDIF, WiFi b/g/n, gigabit ethernet and Bluetooth 2.1, together with a webcam and stereo speakers plus subwoofer.
Underneath, in the control bar, there's a separate SideShow display which can be used to show Windows 7 widgets.  All in all, there's plenty of entertainment PC on offer here, hence the considerable price: two models will be on offer (no word on what differentiates them), at €1,499 ($2,152) and €1,900 ($2,727) respectively.
Medion "The Touch" X9613 hands-on:
Product Video: