MediaTek dual-core processor MT6572 aims for new world market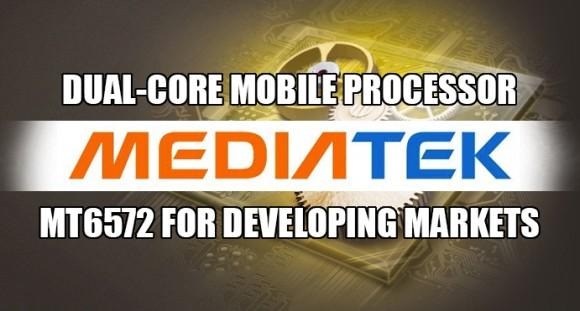 This week the hardware manufacturer MediaTek has shown the MT6572, a system-on-chip they suggest will be the first to bring both a dual-core CPU and "4-in-1" technology. What that means is that this particular dual-core processor will be working with integrated Wifi, FM radio, GPS, and Bluetooth, the final product aimed not at the top-tier smartphones as previous multi-core mobile processors have been, but at the entry segment of the market. This means that inexpensive smart devices – not just subsidized models – will have multi-core power for users everyday lives.
This release puts a dual-core Cortex-A7 CPU sub-system in place clocked at up to 1.2GHz on 28nm process technology. Where late 2012 was a time when it made sense for MediaTek to reveal its so-called "world's first quad-core Cortex-A7 SoC", here in the spring of 2012, that MT6589 SoC becomes ever-so-slightly less important than the markets this new MT6572 will be able to address. Emerging markets are the markets of choice here, places where smartphones have only just started to appear.
This processor build is made for Android (at first) and works with MediaTek's own multi-mode Rel. 8 HSPA+/TD-SCDMA modem as well as support for up to qHD (960 x 540) pixel displays. This SoC is able to work with 3D Graphics, support for 5 megapixel cameras, and support for HD 720p video playback (and 720p video record). Jeffrey Ju, MediaTek smartphone business unit GM, commented this week on the release:
"As smartphones move to a baseline of dual-core processing and with worldwide operators looking to reduce device subsidies, enabling highperformance, multi-core platforms with easy-to-adopt reference designs will be key to enable our customers to rapidly address the fast-moving mobile market opportunity." – Jeffrey Ju
This hardware will begin to be available in smartphones starting in June of this year. At the moment, no specific hardware manufacturers have been named in MediaTek's push for the baseline market.