Mean Green Machine gets meaner Harley power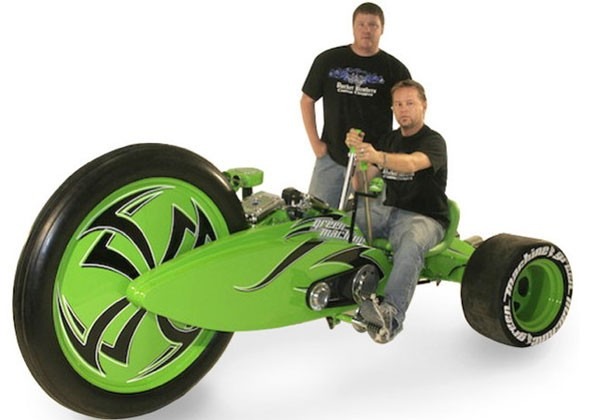 When I was little, I had a Mean Green Machine. I am pretty sure whoever invented it was out to maim kids all across the country. That big wheel/death machine hybrid would do spinouts at will. The downside was that it would also throw you off in about a second. It's a good thing that kids are not fragile. If you had one of these toys back in the day, a new adult version with a big engine from a Harley Davidson motorcycle can be yours.
The thing is available on Hammacher Schlemmer and will set you back $75,000. That is a lot of green; you can get yourself a very nice new sports car for that much money. The adult size version of the kids toy has a 45-inch front wheel is driven by a chain hooked to an 80CI Harley-Davidson engine. That engine has 60hp.
The vehicle has a top speed of 50mph and a six-speed transmission that is controlled by a foot lever. To control the direction of the vehicle two hand levers are uses with push pull action just like the toy. The driving range on an 8.5-gallon tank of fuel is 400 miles. The device doesn't appear to be street legal.
[via Jalopnik]