mDrawBot 4-in-1 robot can draw you any picture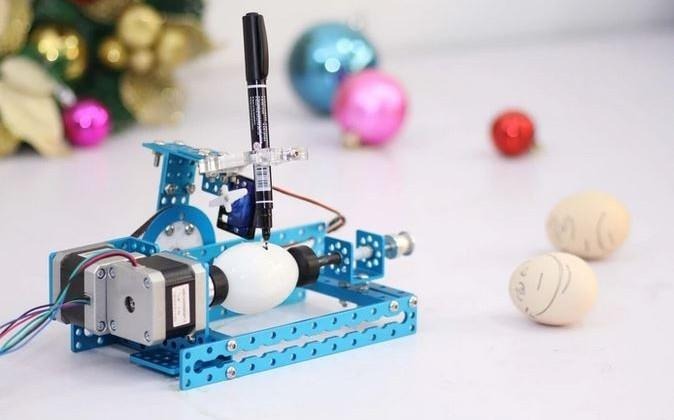 Artists everywhere, take heed: there's a robot pining for your jobs, and it's pretty good at what it does. The mDrawBot is a 4-in-1 robot that is able to hold a pen or pencil and draw images onto paper, as well as laser engrave if the right hardware is equipped. The drawing capabilities aren't limited to paper, however — it can draw on just about anything it can reach with its pen, including an easter egg. The four different modes are called mSpider, mEggBot, mScara, and mCar, each of which draw in different arrangements.
The users can assemble their mDrawBot into whatever drawing robot they want, and it works in conjunction with mDraw software, which is used to control the robot. Users can import SVGs, and there's support for gray-scale laser engraving, among other things.
It can be used to do more than draw pictures, however — it can also be used to draw out data coming from some other device, such as a heart rate monitor, or to fill in charts. The robot can also be updated with things like a gyro sensor or an accelerometer.
Makeblock, the maker behind mDrawBot, is looking to raise $50,000 USD on Kickstarter, where the company has thus far raised more than half of that amount. There are 43 days remaining, giving interested parties a chance to pledge $159 USD to get an Early Bird version of the standard model. Shipping for that is set to start in May.
SOURCE: Kickstarter