McLaren Special Operations outs bespoke Track Theme and Pacific Theme 720S Velocity cars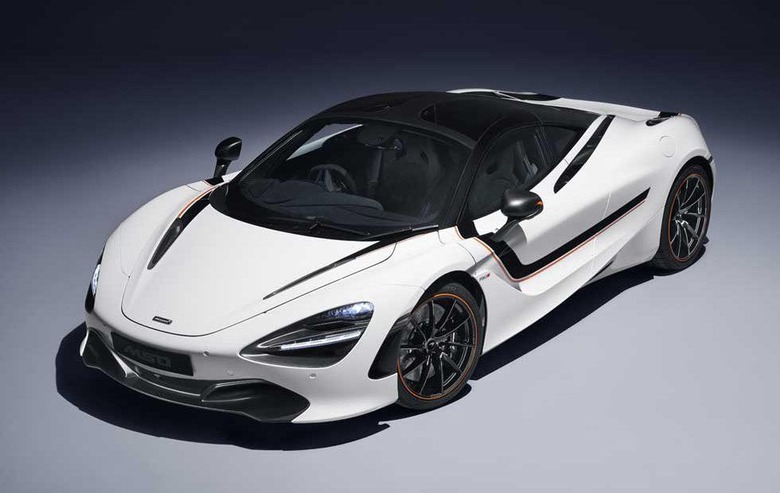 McLaren has unveiled a pair of new designs that came from the bespoke McLaren Special Operations division. Both cars were commissions and one is the first Track Theme for the car and the other is the first Pacific Theme. Both cars are from the same portfolio as the 720S Velocity Theme that was seen at the 2017 Geneva Auto Show.
The Track Theme car is painted Anniversary White and was influenced by the McLaren F1 car. The Pacific Theme is said to draw from the sophisticated technical luxury of the 720S. The Track Theme was commissioned by McLaren Manchester and the paint color is a bespoke MSO option. Detailing on the bonnet, doors, rear quarter panels, and airbrake are hand painted in Carbon Black. The Tarroco Orange touches are a color from the F1 2017 racing car McLaren fielded.
The interior and exterior carbon fiber on this car are satin finished. Inside the car has back Alcantara with McLaren Orange contrast stitching. The harness bar behind the seats is made from titanium and is about 50% lighter than a steel version. It can be fitted with a 6-point harness for track use.
The 720S Pacific Theme was commissioned by McLaren Glasgow. That car is Cerulean Blue, a hue from the McLaren F1 car of today. The door intakes are finished with Estoril Blue. The carbon fiber components are Cobalt Blue-tinted on the roof, front splitter, air intakes, mirror casings, rear diffuser, rear deck, rear bumper, and engine cover.
Inside the car has standard seats with blue inserts and contrast stitching. A blue center band is installed on the steering wheel. Both MSO cars wear unique dedication plaques in the cabin.
SOURCE: McLaren