McLaren 720S Ride-On gives young supercar fans an authentic ride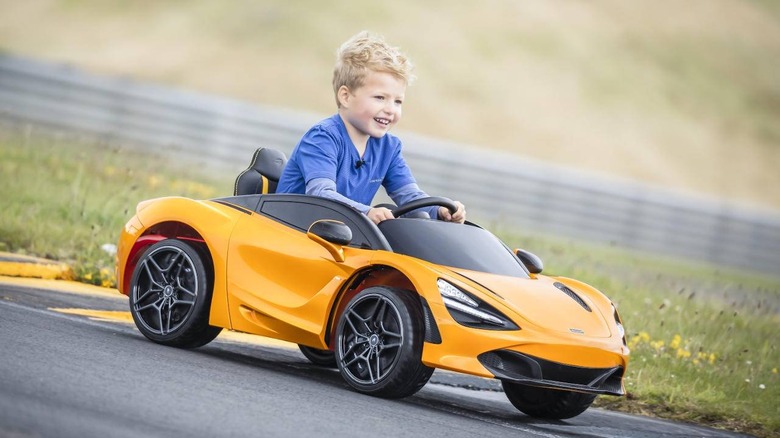 There are saying about "starting them young" but no parent will probably get kids driving even before they can properly understand driving laws. They can, however, instill the love of car brands at a young age, attuning their minds to the intricacies of supercar designs and sounds. That may be the kind of thinking behind McLaren Automotive's latest car toy, the 720S Ride-On, that tries to deliver a look and feel that these kids will remember as distinctly McLaren.
Toy cars that toddlers can actually drive aren't exactly new but they have taken a more serious tone of late. Thanks to electric motors and a few key technologies, these playthings can make kids feel like they're driving the real thing. It probably helps that they've been designed to look like their grown-up counterparts, too.
In terms of guts, the McLaren 720S' electric motor is powered by an accelerator pedal that gives off authentic engine sounds. Brake lights go along with brakes and a dashboard display offers kids information and entertainment. It can even be used to play videos via USB or microSD card. Hopefully, parents will also start them young to learn not to drive and watch at the same time.
On the outside, the Ride-On version inherits the real deal's dihedral, a.k.a "butterfly" doors, and many of the accents and intricacies of the McLaren 720S design. It even comes in the same color options of Azores Orange, Belize Blue, Lantana Purple, Onyx Black, Mauvine Blue, Silica White, or Saros Grey. Later this year, the carmaker's iconic Papaya Spark will also be available exclusively from McLaren retailers.
Designed for kids 3 to 6 years of age, the McLaren 720S Ride-On retails for 315 GBP, roughly $400. While the miniature car does give kids a genuine McLaren look and feel, parents can rest assured that they can still have full control via a remote control when needed.