McLaren 620R is the street-legal GT4 racer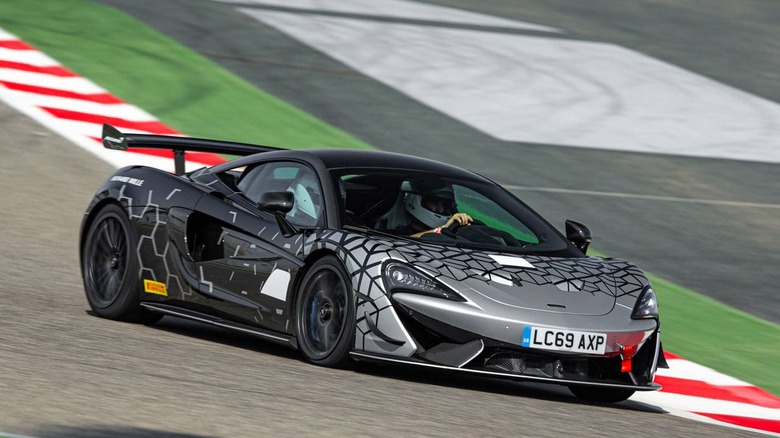 McLaren has pulled the wraps off a new streetcar called the McLaren 620R that is the street-legal version of the McLaren GT4 racing car. The automaker says that the competition-inspired coupe is part of the McLaren Sports Series. The ride is meant to maximize the deployment of motorsport technology from the McLaren 570S GT4 racing car free from racing regulations.The 620R will be assembled in Woking, UK, and only 350 units will be made. The car is the most powerful in the Sports Series with 620PS and 620Nm of torque from a 3.8-liter twin-turbo V8 engine. The 620R shares aerodynamic tidbits and chassis components from the 570S GT4 racing car. Those components give race car performance and feel, along with the fastest lap time of any Sports Series model.
The aero tidbits on the car generate 185kg of downforce at 250 km/h. McLaren will offer optional track-only, bespoke Pirelli slick tires to optimize grip while the standard tires on the car are road-legal Pirelli P Zero Trofeo R tires. McLaren has paid attention to keeping a vehicle this fast stopping lap after lap.
The 620R comes with carbon-ceramic brakes and center locking wheels. The exhaust is a stainless steel sports system, and the car has lowered suspension with a wider track and manually adjustable GT4 dampers.
The interior of the car uses lightweight carbon fiber racing seats with both 6-point harnesses and road seat belts. Three colors will be offered, including McLaren Orange, Silica White, and Onyx Black, all with GT4 race livery standard. A McLaren Senna GTR-inspired livery is offered. Buyers will also be able to customize the car and choose other colors via MSO. The first deliveries will start in February 2020. Pricing begins at £250,000, about $328,850 in the States.