McLaren 600LT details announced ahead of Goodwood debut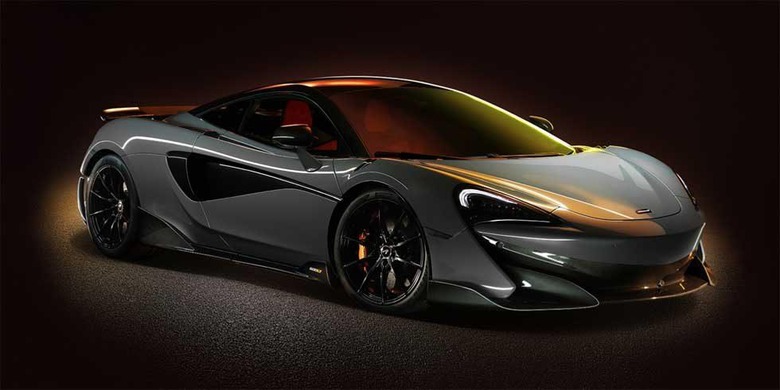 McLaren announced the first details on the latest ride in the Longtail family called the 600LT late last month. McLaren is now back and offering up full details on the car and the fact that it will be seen for the first time at the Goodwood Festival of Speed kicking off today. The 600LT gets a power boost of 30PS compared to the 3.8L V8 found in the 570S Coupe bringing power to 600PS.
The engine makes 457 lb-ft of torque and the car is lighter overall by 100kg. That 100kg weight loss assumes that the buyer adds in the optional super-Lightweight Racing Seats. With that option, the dry weight of the 600LT is 1,247kg for a 481PS/ton power to weight ratio. It can reach 62mph in 2.9 seconds, 124mph in 8.2 seconds, and a top speed of 204 mph.
The carbon fiber bodywork is 74mm longer and has a front splitter and side sills that are new, an extended diffuser, and fixed rear wing providing 100kg of downforce at 155mph. One of the coolest bits is the top-exit exhaust system and that location along with firmer engine mounts bring more glorious engine sound into the cabin. The suspension is a forged double-wishbone system with a lightweight carbon ceramic brake system from the 720S.
The car also has track-focused Pirelli Trofeo R tires. Throttle response is increased along with improved response form brakes and faster steering. The special super-lightweight carbon fiber optional seats are from the Senna and standard seats are the carbon fiber units from the P1.
McLaren plans to build the 600LT for only 12 months. It's not clear exactly how many units will be built in that span. Pricing starts at £185,500 or about $245,000. The 600LT will be offered in the US, UK, and Europe.
SOURCE: McLaren