MCE Tunes brings iTunes music into Windows Media Center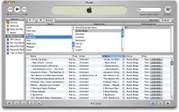 Now I'm neither an iTunes nor a Windows Media Center user, but I know a lot of people would love to be able to play their DRM-encrypted music library from the former through the lounge-friendly interface of the latter.  Unfortunately, encrypted music can't currently be streamed that way, at least not without the addition of a little programming magic (or illegally breaking the copy-protection, which is of course not something we'd suggest you do).  Thankfully the binary-kids at Proxure have decided to unleash some of that necessary magic, calling the end result MCE Tunes.
Right now the only drawback is lacking support for media extenders, whether those be stand-alone boxes or the XBox 360.  However, Proxure are working on it and they promise it'll be a free upgrade once they're done.
MCE Tunes is available now, and costs $29.99.  There's a free version which doesn't allow the playback of bought iTunes files but otherwise lets you try out the interface.
MCE Tunes [via Automated Home]