MCE ships Mac Pro Blu-ray burner with 8x speeds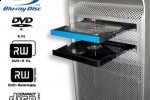 MCE has really outdone themselves this time. Their latest offering is the Mac Pro Blu-ray Burner, but it's not the same as their first internal Blu-ray burner for the Mac Pro. This time around, it has even faster read/write speeds.
The first edition cost $699, but you can expect to only shell out $429 for this latest version. It has an 8X Blu-ray read/write drive and a 16X DVD±R/W. Compatibility is good as well, with great functionality with several software packages including Final Cut Pro, Roxio Toast 10 Pro and Adobe Premier Pro.
So, what's the problem here? Wouldn't you know it, that studio Blu-ray discs won't play on the Mac Pro? To do so, you'll have to dual boot Windows. Or, you could just sit around until the Mac is equipped with the ability to playback Blu-ray. It's your choice.