Mazda's CX-3, CX-5 and CX-9 are unlikely Arctic explorers - but we went anyway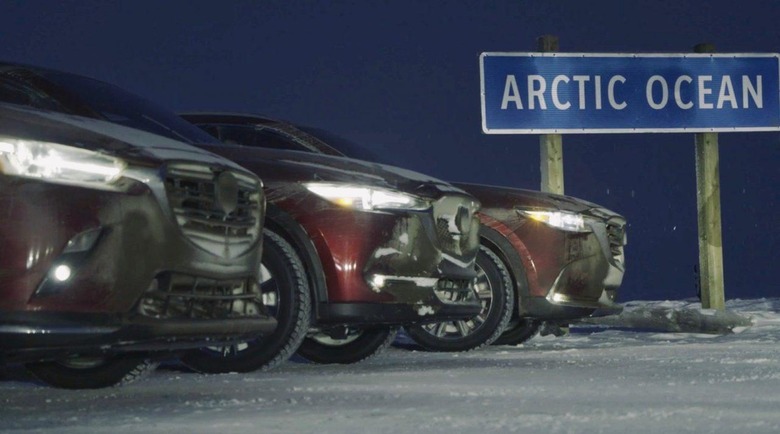 As we ascend above the cloud layer onboard the Canadian North flight – the tagline of which is "seriously northern" – bound for home from Inuvik, Northwest Territory, the native Inuvialuit boy next to me looks out of the window. "Wow, it looks just like the ocean!" he says. Not only is this his first plane ride, but it's also his first trip ever out of the Arctic Circle. It takes a minute to really appreciate what the boy said. Few people on Earth would make that observation; from a boy who lives near a frozen sea, it's clear evidence that environment and experience help shape our perspective.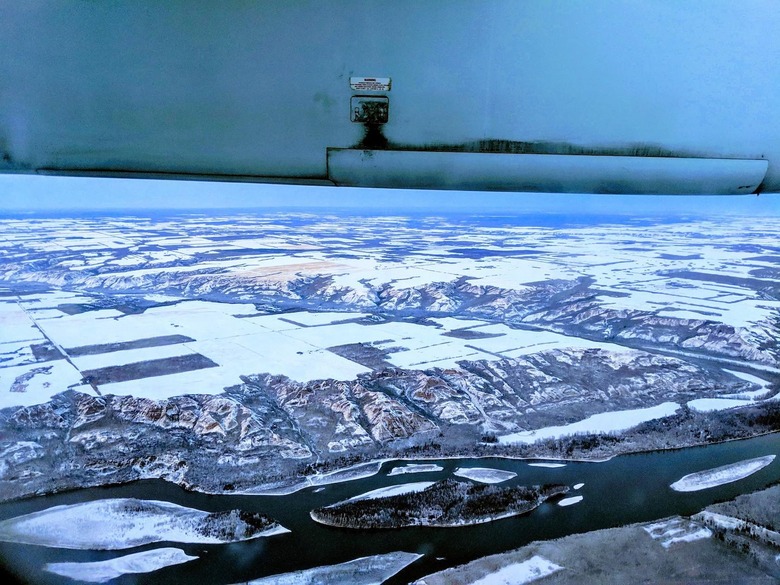 Adventure is a baseline, and I can sniff out true adventure like a bloodhound. Many of us want to live life to the fullest, one with new and exciting experiences that spark a deeper connection with nature and with people. Going to the Arctic Circle wasn't a bucket list item, however, getting there in the heart of winter was: to feel a cold polar night, to see Northern Lights, to appreciate the comforts of living at a southern latitude, to not take for granted the color green. I wanted my cheeks to be smacked with awe-inspiring cold and my eyes to be snow-blind, and, thus, have all my senses challenged.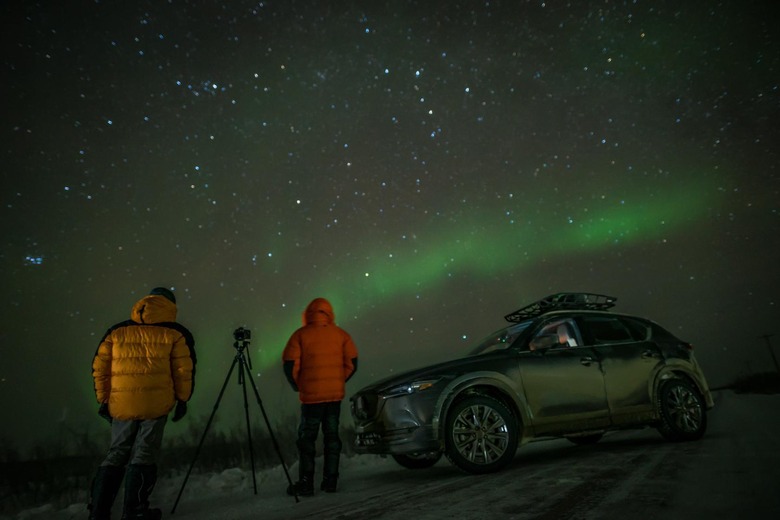 When the invitation came to join the #CXARCTICDRIVE program – an 1,800 mile journey from Fort St. John, British Columbia, to Tuktoyaktuk, Northwest Territory, Canada in Mazda's 2019 CX-3, CX-5, and CX-9 SUVs – not only did my heart pound with excitement, I couldn't think of a better way to spend the time. A trip not for the faint of heart, however.
The week-long 'road trip of a lifetime' to the Arctic Ocean would loosely follow old routes of dog sled teams, explorers, and prospectors alike over the Alaskan, Klondike, Dempster, and Inuvik-Tuktoyaktuk Highways. Boldly going where few people – and, subsequently, fewer cars – have rolled before, Mazda would put its vehicles to the test in some of the most treacherous conditions known to man.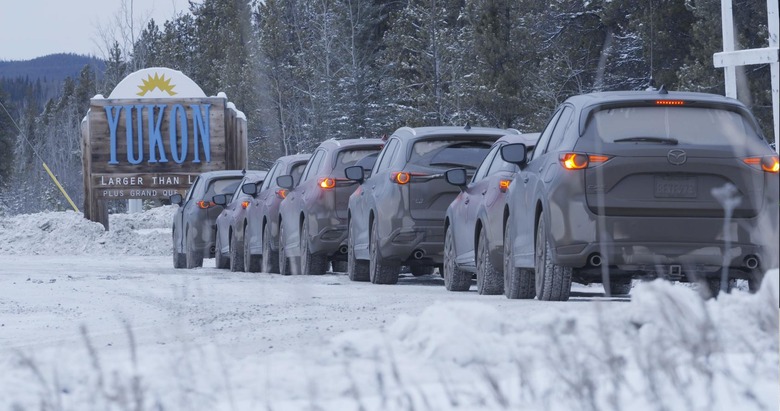 Planning & Preparation – Pre Trip
From the small prop-jet headed to Fort St. John, a hint of what was to come: as though Canadian farmers were cultivating fields of ice, to harvest for the millions of glasses of Coca-Cola drunk all summer long in the lower 48 states. The sun was setting by 3pm and a glow of fire and ember contrasted greatly with the cool, blue tone of the earth. Locals on the plane talking about an unusually mild winter unwittingly lowered my guard, because upon deplaning, I made a bolt for the terminal as the bitter wind caught me by surprise. The packing list with instructions to pack "light-ish", flashed in my mind and I almost cried!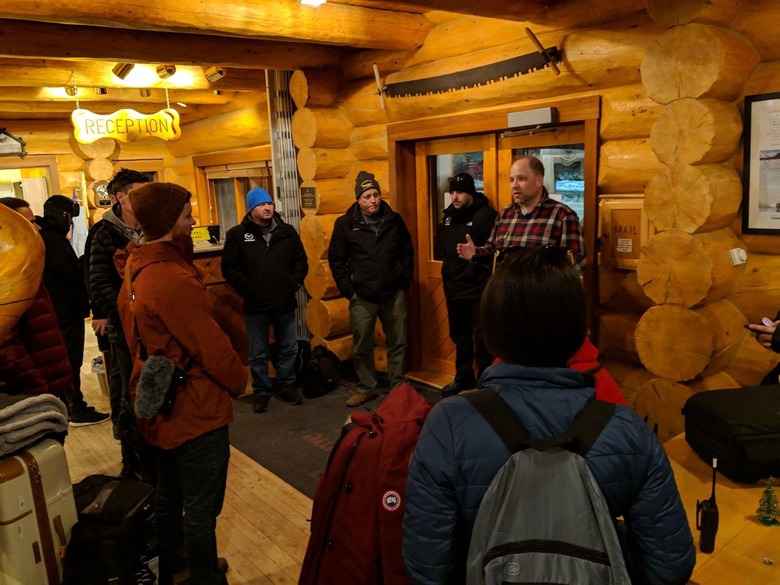 Our group was composed of 23 journalists, photographers, influencers, YouTubers, filmmakers, professional drivers, and representatives – all over the sliding scale in terms of driving experience. Elements of the trip were beyond anyone's control. Even months of careful planning couldn't guarantee making it all the way to the Arctic Ocean: serious accidents, impossible weather, life-threatening cold, ice roads for Pete's sake! Yet, there we were, ready to drive to one of the world's northernmost road ends.
First Meet & Safety Briefing
Expedition Lead Driver, Danny Kok of DriveShop, took center stage that night and started going over the basic principles. "There will be big trucks on the road and they will drive down the middle of the road and try to push you off," he warned us. "Stay relaxed, hold the wheel loosely, don't oversteer and let the predictive i-Active AWD do its job!". Holy moly, was this a new season of Ice Road Truckers Gone Evil?! Danny, in essence, would be our five-star general; the man calling out commands, concerns, traffic, and information over the VHF two-way radios.
Each of ten expedition cars was outfitted with Blizzak snow tires and a whole host of safety items: tow hooks, block heaters, spares, survival kits, and more. Military and medical personnel with a sat phone in the expedition tail made it clear that Mazda was prepared in the event of an emergency. We needed to live to tell the tale, after all.
Could we spend an entire week together in close CX quarters? Would we gel or fight? Dynamic road test AND borderline social experiment? I watched the special Arctic edition of Top Gear and learned that extreme cold can bring out bad behavior in good people. Would the reliability and comfort of the CX keep stress levels and panic low to avoid the pitfalls of personality conflict?
DAY 1 – Miles and Smiles to Muncho Lake on the Alaskan Highway
Morning Briefings covered driver pairings, vehicle assignments, concerns, and updates. The 6:30 am wheels-up departure felt like the closest thing to a shuttle mission I had ever been on. Any leftover jet-lag from flying halfway around the world was entirely mitigated by pole-bound enthusiasm.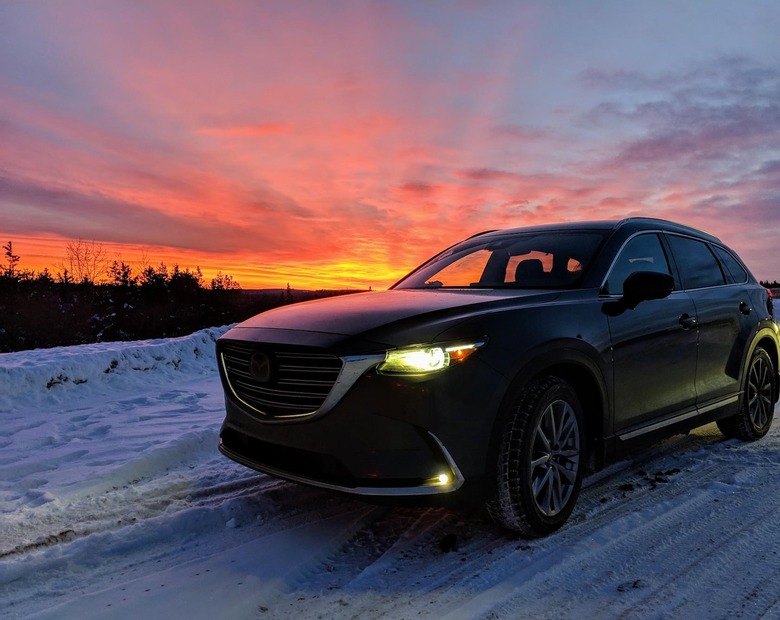 (CX9)
Climbing into the mid-size, three-row 2019 CX-9 was like checking into a hotel suite with updated interior trim and amenities. The 360-view monitor was helpful, as was the active driving display, safely keeping your gaze out in front of you and on the road. Mazda suggests the turbocharged SKYACTIV 2.5L engine gets you 20mpg in the city or 26 mpg in highway driving, leaving you confident you'll actually make it to the next gas pump when driving through far-flung corners of the world. And with 250 horsepower and 310 lb-ft of torque, an inferiority complex shouldn't come to mind when out there with the big rigs. As for inside, whether you're a family or just a fan of over-packing, you've got space.
Snow glittered like diamonds in the headlights that first morning, giving you a special feeling. The Alaskan highway, completed in 1942 to encourage economic development and tourism of the area, is paved nowadays, but road conditions vary from excellent to poor and it's not uncommon to encounter gravel patches and chuckholes along the way. Adorable scenes of Canadian kids sledding down hillsides passed, and the Alcan became progressively more snow and ice bound. As road crews and graders came out, gravel bits hit the windshield like a hail, causing significant chips in the glass.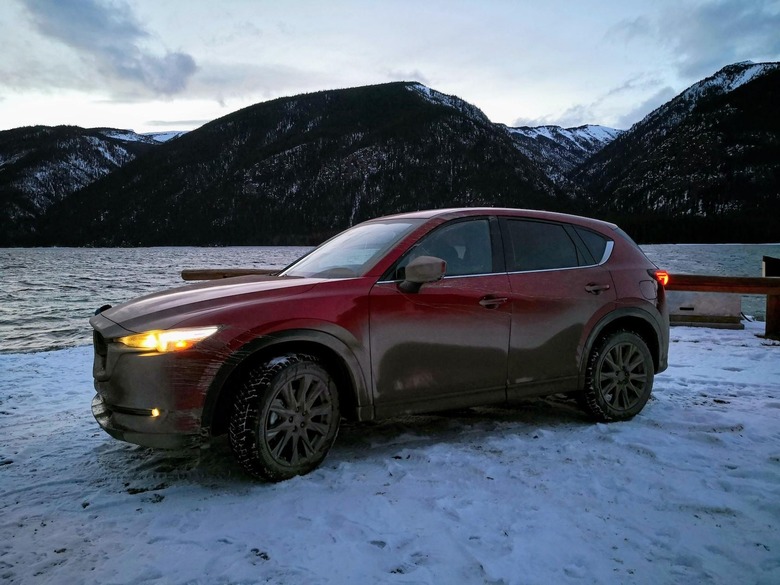 Like an animal in its natural habitat, the CX-9 handled nicely on a series of sweeping turns through the majestic Northern Rockies, at the same time giving you a good feel for the more technical features. The adaptive front-lighting system actually bends your headlights around turns, for example, while the lane-keep assist rumbled when passing traffic. Four-hundred miles and seven hours later, behold, the Northern Rockies lodge situated at the southern tip of Muncho Lake. The cars had new paint jobs – a post-industrial soot color – only available at the road trip trim level. The 360-view monitors, led lights and door mirrors were caked in mud and rendered useless. There would be no ceremonial car washing each night, to the lament of the photographers on the trip hungry for glamorous car content.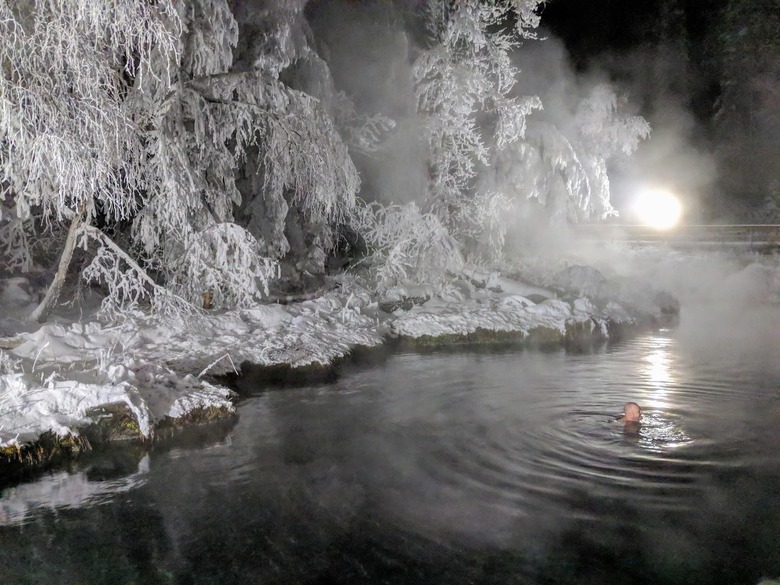 Bellies full of duck soup and juniper steak prepared by an expertly-trained chef were topped off with an excursion to nearby Laird River hot springs. Walking down the snow-covered boardwalk, our headlamps revealed a winter wonderland: a warm-water swamp teeming with tiny minnows, unique plant life and spruce trees that stood like abominable snowmen with bows like outstretched arms with thick, condensation-heavy snow. Coats and base layers are shed fast and everyone slips into 115F waters. On the return, as my muscles melt into the heated back seats of the CX-9, I fall asleep.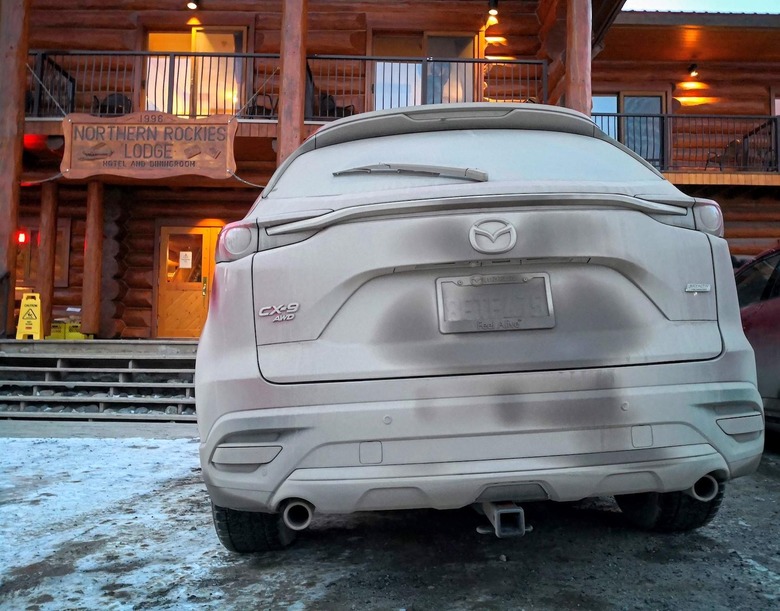 DAY 2 – Yukon Ho!
(CX3)
Ominous dark clouds brooded in the distance as I tucked in the 2019 CX-3 and shouted "Yukon Ho only 440 miles to go!". Word spread of a blizzard that could slow a nine-hour day into 20 hours of grind. As a smaller individual who values packing light and traveling fast, Mazda's CX-3 fits my ethos of "less is more". Nothing intimidating about this car, with straightforward controls and dials, though a larger individual might feel a degree of constraint in cabin space. My Yeti travel mug filled with coffee in the center console, and cameras charging away in the USB ports, we zipped off.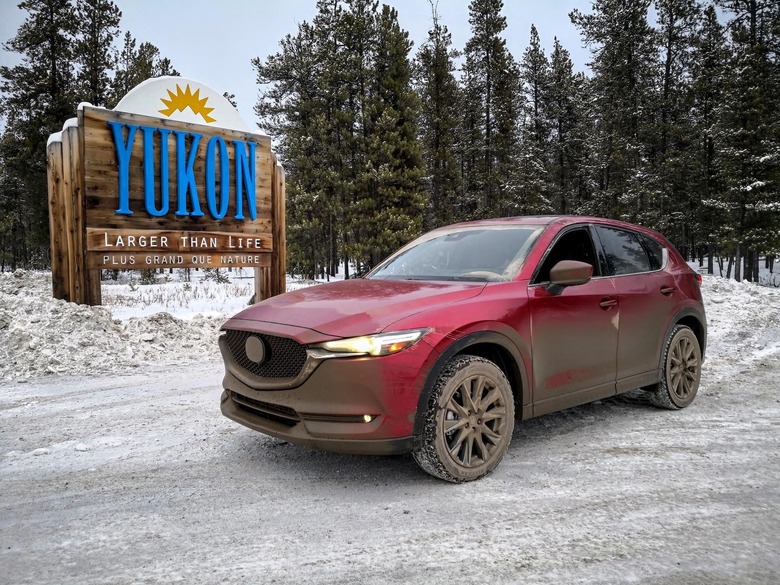 Exciting as we passed flocks of Stone's sheep, herds of caribou and tons of endangered Wood bison. With an average adult male bison weighing over 2,000 pounds, popping out of the power-moon roof was the ideal platform from which to observe these magnificent creatures.
Tim Olsen, PR Program Manager, North American Operations, Mazda, and I had the chance to speak at length about design, such as the 'Head-Up Cockpit'. "Mazda design encourages the driver to sit directly over the center line of the wheel, especially important as we become more technology addled," Olsen explained to me. "It's necessary to minimize the incidents of distraction and, therefore, accidents overall. The goal is to have a driving experience that feels entirely intuitive and 100% natural." (intuitive technology) Still, while the CX3 is a great little compact crossover, it seemed a little in over its head for a trip of this length and nature.
Miles and hours rolled by and the storm blew off course. The mood lightened as we shared stories and talked music and playlists. I fiddled with the infotainment system, which seemed a little clumsy and not so intuitive. We were in one of the least polluted places on Earth, and the distant city lights of Whitehorse, Yukon, could be seen from over 30 miles away.
DAY 3 – The Klondike and Destination Gold!
The team stashed boxes of Timbits – scientific name: donut holes – from Tim Horton's and bags of beef jerky in the cubby holes and dash. Confident with extra calories at hand, we drove past Five Finger Rapids and through a place the population of which could only be counted in tree tops – the Northern Boreal forest – a vast and intact circumpolar forest that covers a whopping 60% of Canada's land area.
The day ended with a sunset unlike any other; an ethereal warm hue that graced our windshield showing mercy to the cracks that streaked across it. It paved the way ahead of us in golden light straight to the heart of the 1890 gold rush. We entered Dawson City like cowboys in our spirited steeds. A scene straight out of Tombstone, we parked and walked through double doors into the Sluice Box Saloon for dinner and merriment.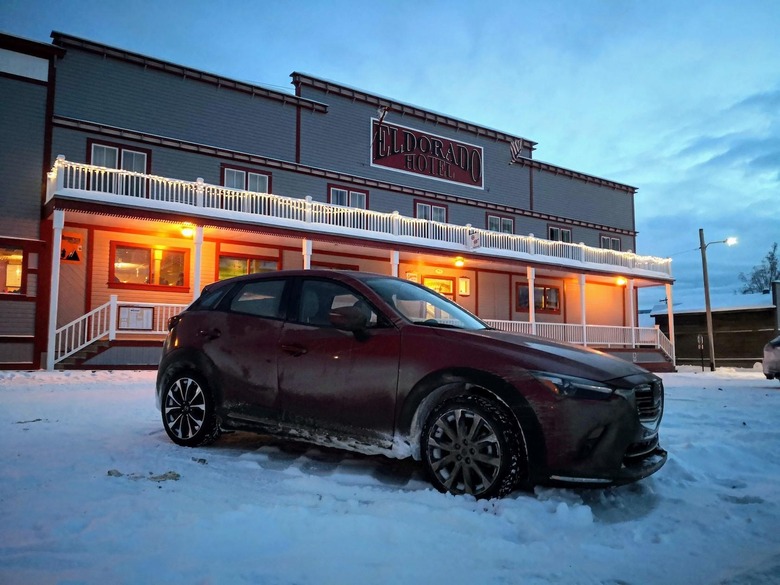 We slept like tired prospectors at the El Dorado Hotel while a blizzard raged overnight and dumped heaps of fresh snow all over the Dempster Highway.
DAY 4 – Down and Dirty on the Dempster Highway
Over eggs and oats that morning, Danny called us to attention. "Today is going to be challenging, we're expecting really tough conditions," he warned. "Wind gusts up to 200km/h left massive drifts on the Dempster. It will take 8 hours, or longer, to reach Eagle Plains, the halfway point." With tanks topped off and the i-ACTIVESENSE safety systems of the 2019 CX-5 engaged (except for the cruise control), Davey G. and I made the committing left turn onto the Dempster. Sitting in the passenger seat, my life was literally in the hands of driver Davey G.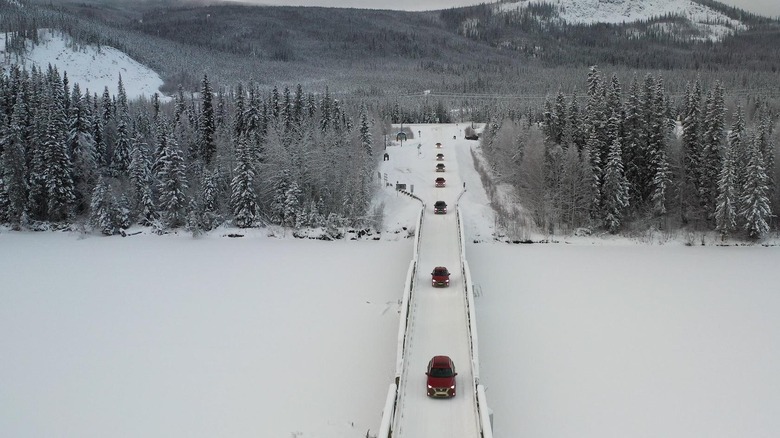 The Dempster is loose gravel and the only all-weather road to cross the Arctic Circle. Anyone traveling this remote road in winter must heed all precautions. The road is built up and the shoulders drop off with steep precipices, six to ten feet down to the permafrost layer. Therein lies the danger. Danny advised us to center in the road, keep our vision up and as far ahead as possible: the gaze must catch everything on the periphery and in-between. Easier said than done.
In a polar desert where humidity levels are low – so low, in fact, you can't even pack a snowball to throw at your drive partner during a bio-break – we were caught in an incredibly fine cloud of snow dust. It was being kicked up from cars #1 and #2 just ahead of us, and creating a legitimately terrifying situation. We were in a white nebula and could only see the ghostly apparition of red taillights in front of us.
(CX5)
The CX-5 would be Goldilocks' pick for any season... juuuuust right. This car proves that style, luxury, and off-road are not oxymorons. The plush interior, quiet cab, and ambient lighting were a pleasant environment and shielded us from the chaos outside. My nerves remained calm even as the wheels hit significant drifts, causing the tires to go the path of least resistance and the front end to wobble back and forth. Davey G. pressed the gas pedal, confident that the G-Vectoring Control Plus and Predictive AWD were assisting in a big way. "Even though Mazda has one of the best skid control systems available, it's not idiot proof!" Danny reminded us over the radios. "Look and steer where you want the car to go. Whatever you do, don't stare at the ditch because the computer will help you get there!"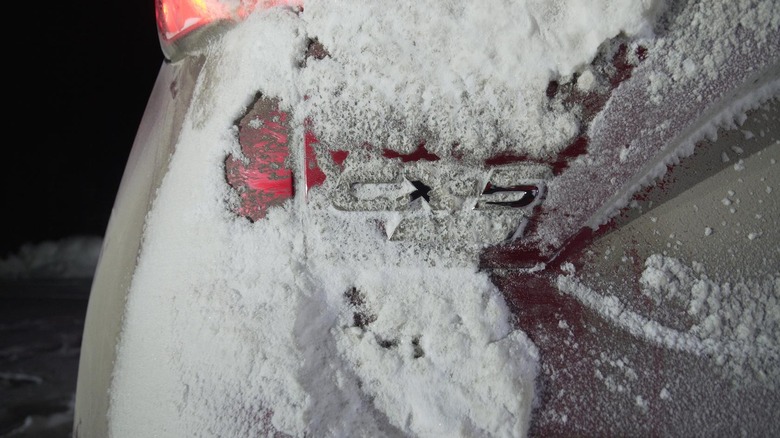 The temperature hovered around -30F as we crossed two rugged mountain ranges are nearly 4,000 ft. The valley below lay in a state of deep freeze, and faint light from a sun still under the horizon barely revealed a place as otherworldly as the sci-fi ice planet Hoth. It was a mad gas and dash at Eagle Plains, a pit stop worthy of a trackside; we moved hurriedly as authorities prepared to close the road to Inuvik for the night.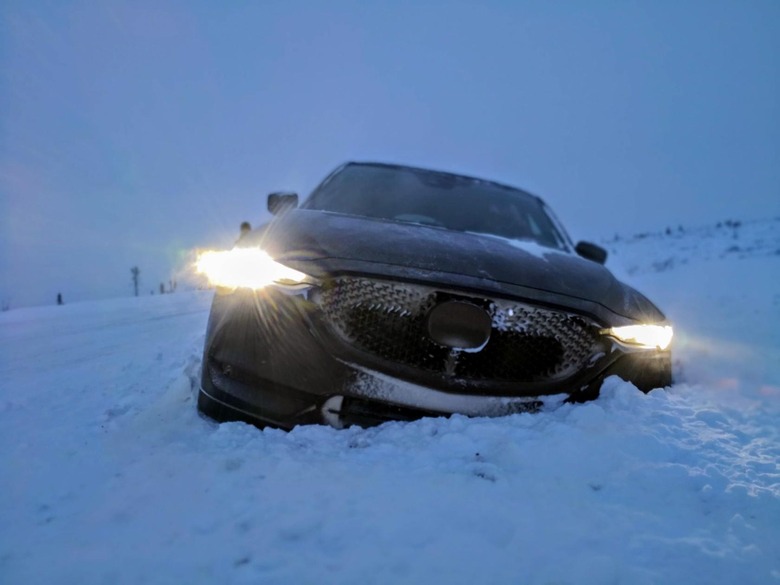 Davey G. held his breath on the downhills and sighed with relief as we reached each bottom. We were on the most dangerous part of the Dempster when suddenly, CODE RED! Of all the convoy, it was our car that glides off the edge into the abyss of a Dempster ditch, as gracefully as an ice-skater. We score a nice landing too, as the car sits partially on its side in a poetic kind of way. Up to our grille in snow, we catch our breath and appreciate that no one is hurt. Both of us climb out of the passenger side door of the canted car. The soft, fresh snowbank acted like a safety net and gently caught the car and there was no damage. The Northwest Territory turned into Type III Fun Territory!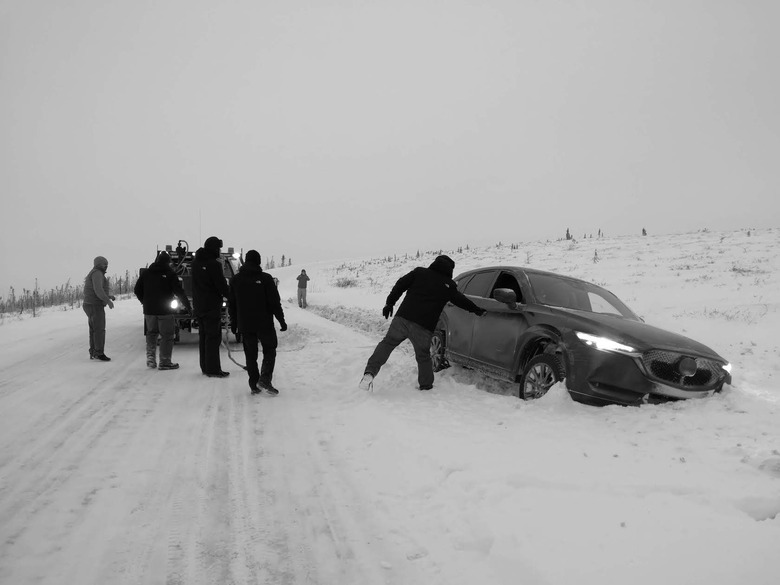 The first vehicle to pass us in over eight hours happened to be a tow truck. The Inuvialuit driver stepped down from his truck and said, wryly, "y'all must be from the south, eh?" With the help of he and the crew, we're back on the road in under 20 minutes and round two brings us to the Arctic Circle. 66º33' is the last latitude on Earth where less than 0.5% of the Earth's population lives. Anywhere you look from here is considered south.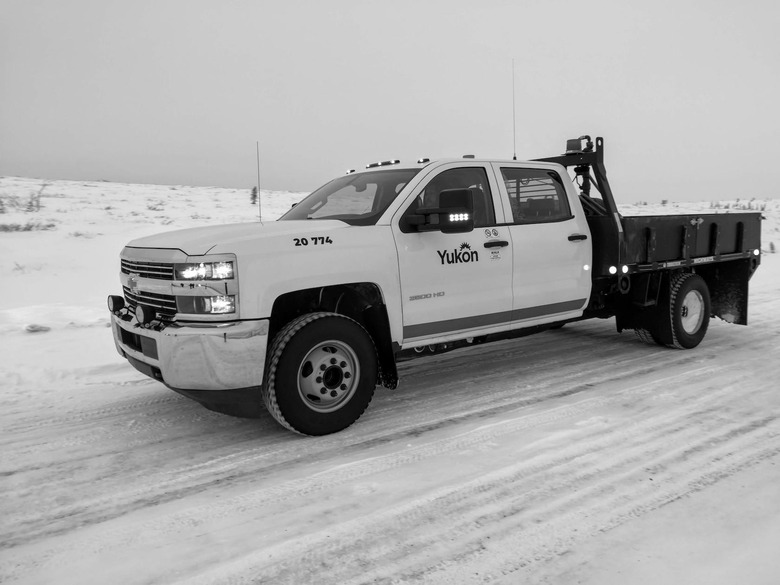 One heck of a day with only a couple of ice bridges left to go, the Peel River crossing was 3.5 feet thick and rated at 53,000 pounds, while the second crossing, the Mackenzie River, was thinner with a scant 12,000-pound rating. We were ordered to cross three at a time and spread the cars out. We ride the last snow heaves into Inuvik and straight to the MacKinzie hotel. A memorable 14 hour day.
DAY 5 – The Far North and Arctic Ocean
The Inuvik-Tuktoyaktuk Highway is Canada's first all-weather road to the Arctic coast. It recently opened in November 2017 to the tune of CAD$300m. Wending its way 93 miles across treeless, subpolar tundra basin and past rare geologic formations called Pingos, it's an absolutely enthralling and exciting road to drive in good conditions, and the grooved surface offered good traction. Mazda's nav system came up blank here.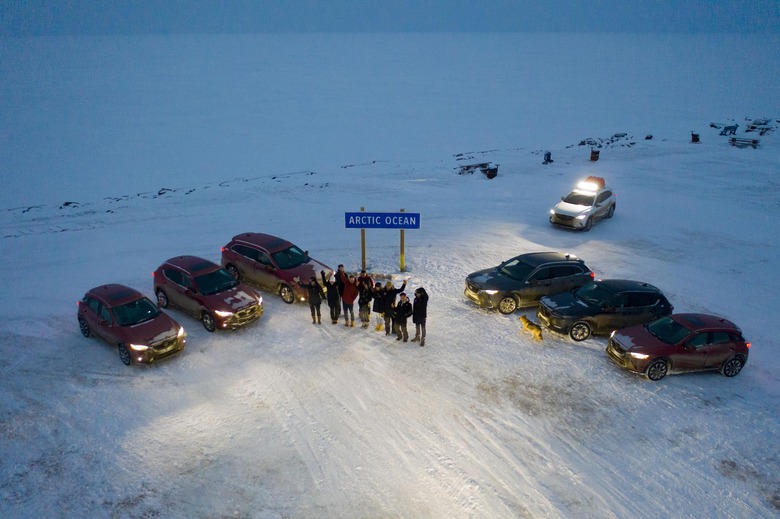 Tuktoyaktuk (pop. 900), colloquially referred to as Tuk, is an Inuvialuit hamlet at the edge of the Beaufort Sea. At the edge of the settlement sits a sign that reads "A fed bear is a dead bear!" A little further in sits a convenience store, aptly named "End of the Road, Ltd," and the Ice House, an outdoor community freezer where villagers store meat such as moose, caribou, and grouse all year long. The colorful little houses sit high on stilts, as the ground shifts constantly below. Ocean front bungalows, anyone?
Driving to the other end of the outpost doesn't take long before the sign "ARCTIC OCEAN" appears. You can't help but smile. We park the cars and play for hours on the ice – laughter, high fives, hugs, and photos – thankful that we made it comfortably, safely, and – most importantly – together, all the way to the end of the road. The experience transformed us from a team of strangers into a group of friends. Bucket list, check.
Elders of the Inuvialuit community had prepared caribou stew, flour biscuits, and cloudberry jam. We celebrated the successful journey with some of the very people who helped build the road. They were proud we made it to Tuk and unselfishly shared their way of life with us. After all, it was one of the reasons to build the Inuvik-Tuktoyaktuk Highway in the first place. For a people with so little, they had, in essence, offered us more than they could ever imagine: the chance to fulfill a dream.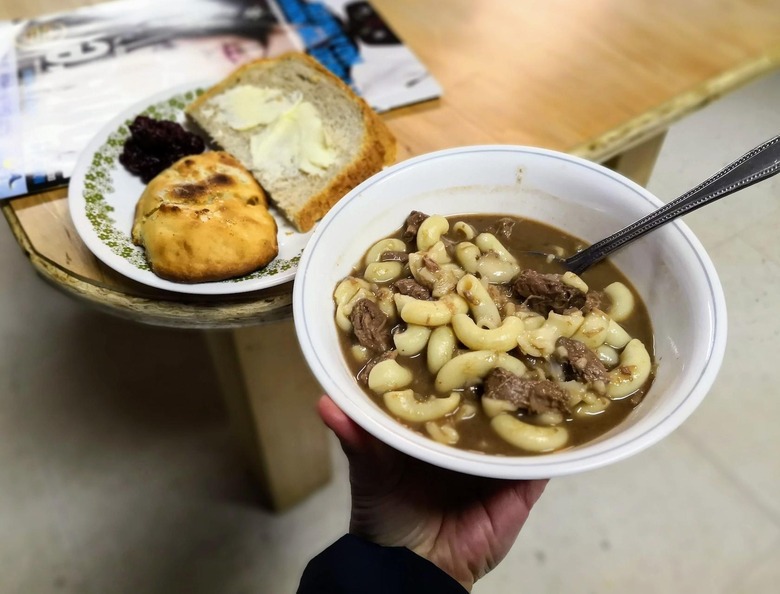 Looking towards the pole that day, as I stared out into a giant canvas of white with seemingly no vanishing point, two local men with enormous seal skin mitts up to their elbows zoomed away on skidoos, and vanished, far away, into the middle of a bleached horizon. In the end, I could see exactly what the little Inuvialuit boy on the Canadian North plane saw. After all, when you share a perspective it creates a common thread of understanding that can bring people together.