Mazda Plans on Building a Life-Sized Scalextric Track with Real Cars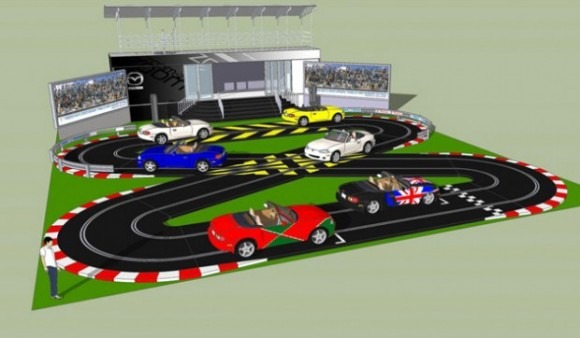 You've played with slot cars before, right? They are definitely one of the coolest little gadgets out there, especially considering you can usually always throw those cars off the track just by going too fast around a corner. Well, at this year's Goodwood Festival of Speed at West Sussex, over the course of this weekend, it looks like Mazda's got a pretty ingenious (or maybe crazy) plan. They want to make a life-sized version of those slot-car tracks.
And, as you might imagine, they're going to use some real Mazda vehicles to really sell the experience. It's going to be an automated, full-sized Scalextric track. There's no details about how it's all going to work, and all we can say is that we're hoping that there won't be any horrendous accidents with cars flying haphazardly off the track, but considering how often it happens on the miniature version, we'd be shocked if it didn't happen once.
Of course they'll have some kind of safety features, especially when you look at the cars being included in this. A 1990 Miate, and a Mazda 2000 10th Anniversary Edition is just two of the many that Mazda is going to include in the 20-year MX-5 celebration. We're looking forward to seeing how this goes — we're eagerly anticipating the awesome videos.
[via CrunchGear]