Mazda CX-5 Review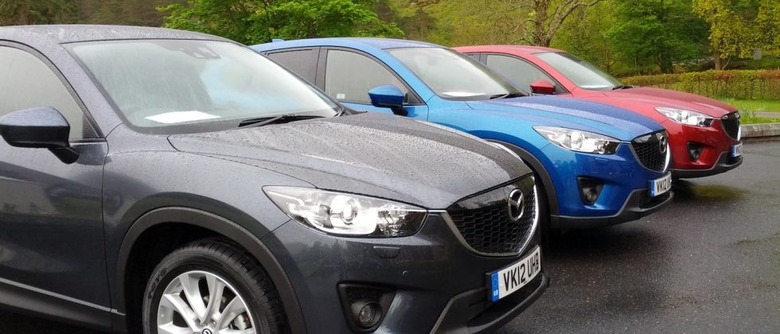 Can a mainstream SUV really be fun to drive? Mazda thinks so, and so it tore up the rule book and started from scratch with the new CX-5. The crossover-SUV debuts Mazda's SKYACTIV technology, a combination of weight reduction, efficiency improvement and design rethinking that, the company promises us, makes it a credible alternative to today's hybrid and all-electric cars, despite using petrol or diesel powerplants. Too good to be true, and will the CX-5's aggressive styling grow on us? We put on our finest leatherette driving gloves to find out.
Design
Distinctive is one way to describe the CX-5. Mazda's traditional beak-lip grill has been enlarged until it's a gaping maw at the snub-front of the SUV, making for a car that's certainly noticeable in your rear-view mirror. Sharp hood creases dip down over hawkish headlamps, joined by muscular front arches that cut under driver and front-passenger windows that have an almost teardrop cut to them, bowing down to the wing mirrors.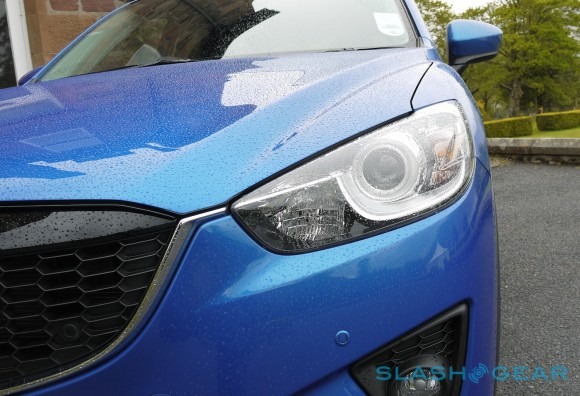 In profile, that arch line is joined by a more relaxed crease down from the rear of the car, leaving the CX-5 with a high waistline. Combined with the dip of the roof at the back, it gives the Mazda a pinched tail that helps disguise some of its heft. Plastic cladding, around the lower front chin, underneath the doors and at the rear of the CX-5, is kept to a happy minimum, though there's still enough to probably save you too much damage from a kerb ding or road hump. Darker colors, like navy blue or grey, disguise it even more, but lighter options such as the metallic blue and red, show off the Mazda "Soul of Motion Design"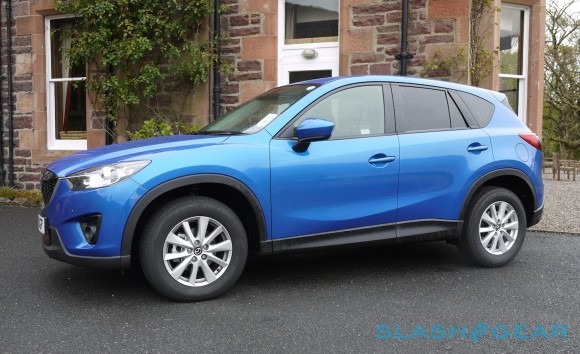 17-inch alloy wheels with 225/65 R16 tires are standard on the SE-L spec CX-5, stepping up to 19-inch alloys with 225/55 R19 tires on the "Sport" model we tested. Both get tinted glass rear of the B-pillar, front fog lights and daytime running lights, while the Sport throws in Bi-Xenon adaptive headlights.
Interior
Even Mazda admits that its interior quality hasn't been up to scratch in previous models, and so there's been a distinct and deliberate attempt to improve the CX-5's accommodation. Thankfully Mazda hasn't taken the easier route out and simply thrown a bag of gadgets at the same old plastics: instead, you get a decent haul of kit as standard together with dash materials that hold up to more than a casual prod.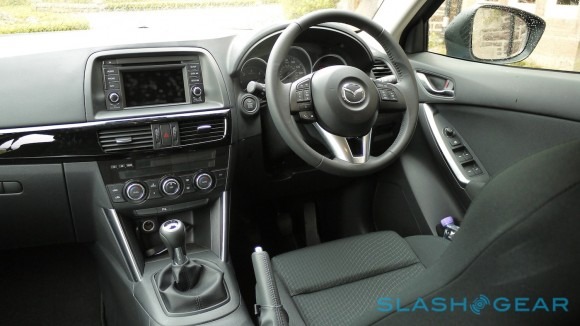 The driver's seat is adjustable in all the usual ways, including for height and lumbar support, and the Sport models make all of those adjustments motorized. Dual-zone air conditioning is standard, automatically turning on if you twiddle the chunky passenger-side dial to a different setting from the driver's, and with a straightforward "Dual" button to link them back up again.
Front and rear windows are electric, as you'd expect, and the Sport models have three-stage heated front seats too, which warm up quickly. Unfortunately there's no heating option for the leather-clad wheel, which is manually height/reach adjustable. The rear-view mirror is auto-dimming, with an easily-stabbed manual override button, and there's cruise control – though not the clever speed-adapting system in Mercedes and other cars – as standard too.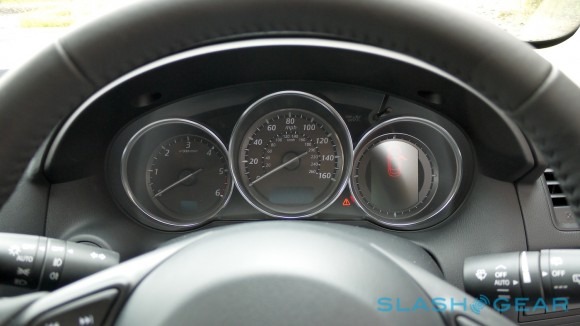 There are several advantages inside with the Sport model, not least the leather seats – available in black or stone, with contrasting stitching – replacing the SE-L's sturdy black cloth trim, the reversing camera complete with useful on-screen guidance lines, and keyless entry. You also get an audio system upgrade, with the standard CD/radio six-speaker setup replaced with a Bose audio system with nine speakers. Both have a 5.8-inch LCD display which, if you opt for the "Nav" variants of either spec model, throws in a touchscreen and TomTom guidance. Usually that would be a £400 upgrade, though for a limited period after launch Mazda will be including TomTom as standard.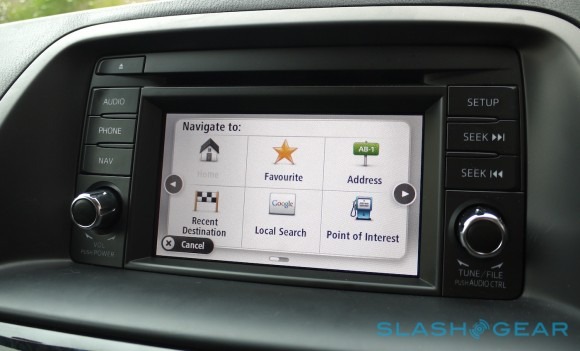 Bluetooth connectivity for pairing your phone is included, and we found it far simpler to hook up a phone and sync across our phonebook than with some rival systems. After that, we could dial a number either by tapping it out on the touchscreen (or choosing a contact), scrolling to it with the Multimedia Commander dial down by the parking brake, or hitting the voice-command button on the steering wheel and attempting to navigate by speech. The latter proved a mixed bag, and we had more consistent results using the touchscreen. Audio quality proved surprisingly good, filling the cabin even when driving at speed, and without undue distortion.
Our test cars also came fitted with the optional safety pack, a £700 upgrade including rear vehicle monitoring and a lane departure warning system, the latter of which sounds an intrusive and unmissable noise when its lasers spot you've wandered over the road lines on either side of the car. It demands decent quality markings, however: on some of the more poorly maintained roads, where the lines were faded, the LDWS system didn't spot our cavalier lane discipline.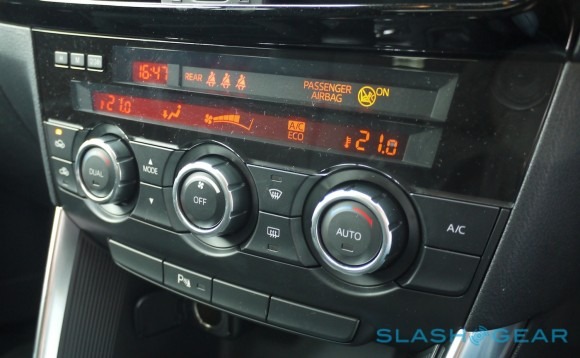 The majority of Mazda's new focus on quality is successful. The leather trim to the wheel and gearknob mean the controls you touch most often feel premium, while buttons and stalks all press and toggle with a firmness more akin to a premium car than a mid-tier SUV. It's not a clean sweep – there's a swathe of plastic wood across the center of the dash which would look better as metal, and the display for the air conditioning looks more like something we'd expect to see on a 90s HiFi than in a 21st century car – but there were no creaks or squeaks to be found.
Moving back through the car, the rear seats lose visibility because of waistline, though headroom is good. That could be an issue if you have younger children who want to see where the CX-5 is going, as they could well struggle to see out of the rear windows. The seats themselves support a 40/20/40 split, folding down flat to extend what's already a capacious rear load space into a frankly vast one.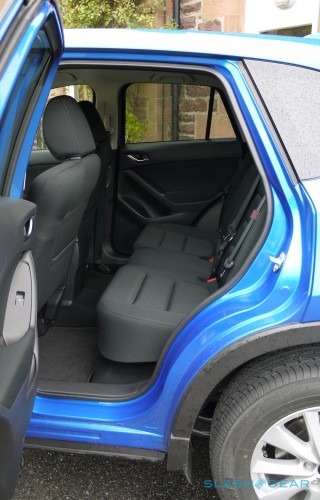 Storage space isn't quite on a par with some of the more imaginative cubby holes of rival SUVs, but there's still plenty of space to accommodate drinks bottles and the like. The center arm-rest opens to reveal a shallow, removable coin tray, with the larger space underneath joined by a second power socket and a USB port. The door pockets will hold a small water bottle, while the glovebox gets its own light and is reasonably deep.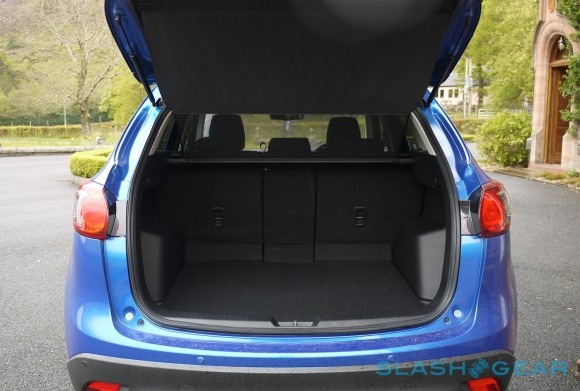 Engine
Mazda has a choice of three engines for the CX-5, kicking off with a 2-liter petrol mustering 165ps and then two turbocharged 2.2-liter diesels, with either 150ps or 175ps. Both diesels can be paired with either a 6-speed manual gearbox or a new SKACTIV-Drive automatic that pulls in elements of step-auto, CVT and dual-clutch systems for smoother, more responsive shifting and better fuel economy; they also have a choice of 2-wheel drive or all-wheel drive. Petrol cars only get the manual gearbox and 2-wheel drive.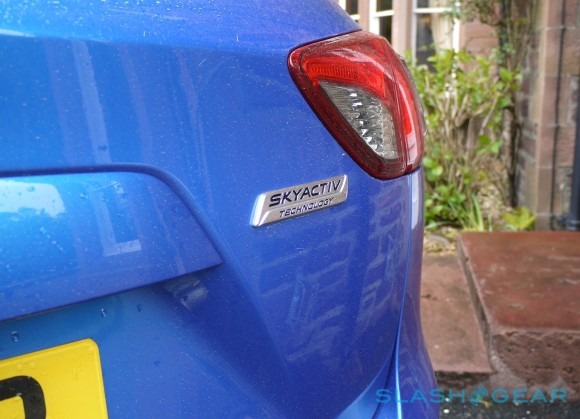 There's a huge bag of safety and performance technology that's thrown in too, including ABS, emergency brake assist, traction control, hill-hold assist and a tire pressure monitoring system, but the three stand-outs are Mazda's freshly-branded SKYACTIV, Smart City Brake Support, and i-Stop.
Smart City Brake Support uses the front-mounted lasers to track vehicles and obstacles in front and, as long as you're traveling at under 18mph, automatically stop the CX-5 if you're about to crash into the back of it. We tested it out and, though there's quite a jolt as the ABS-based system kicks in, it worked just as Mazda promised.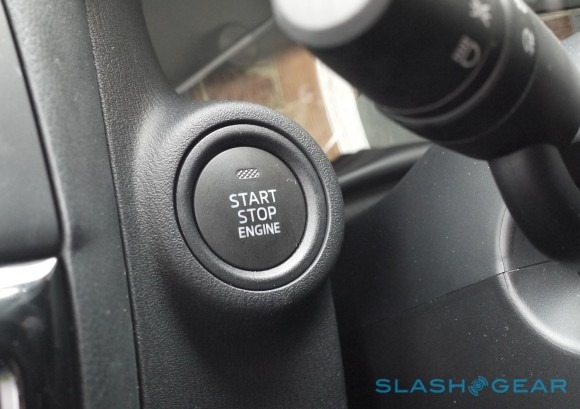 i-Stop, meanwhile, automatically shuts down the engine when you draw to a holt, such as when waiting for lights or in stop/start traffic. It's not a new concept, but Mazda implements it particularly well: it's so smooth as to be almost unnoticeable in action, and all three of the engines are sufficiently quiet at low speeds that it's only really the lack of vibration that gives away the transition. Restart is also incredibly slick, with less engine rattle and shake than we've found in a Mercedes E-Class. That's no small achievement.
SKYACTIV and Performance
SKYACTIV is the big news, however, Mazda's ambitious redesign of its engine technologies along with gearbox, chassis, and suspension. In fact, nothing has been carried over from the previous-gen cars: everything is new. The goal is to create an SUV that shifts, corners and generally performs more akin to Mazda's MX-5/Miata than a family car. So, the manual gearbox has a truncated throw for more snappy changes, and Mazda has managed to achieve the hitherto impossible: a 14:1 engine compression ratio, the highest of any petrol engine and the lowest of any diesel.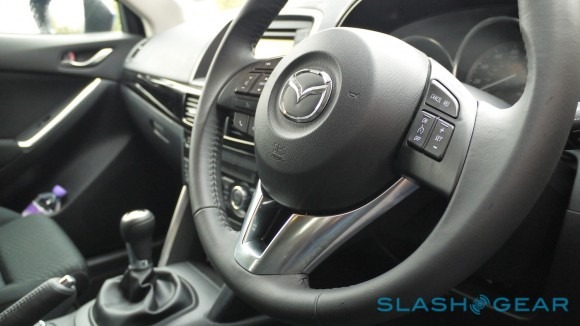 The figures are certainly promising: a 10-percent decrease in engine weight across the range, with the petrol powerplant dropping CO2 emissions and fuel consumption by 15-percent, and the diesel notching that up to 20-percent. Torque is up, too, and the automatic gearbox has seen a 4- to 7-percent boost in fuel efficiency.
Does it work? It's certainly the most enthusiastic and car-like of the mainstream SUVs we've driven, belying its near-1.5 tonne kerb weight. We drove the manual, Sport versions of each engine, and though we had high hopes for the petrol model, in actual fact it was the diesels that proved to stand-out.
Mazdo quotes 9.0 seconds 0-62mph and a top speed of 124mph from the 2.0 liter petrol Sport CX-5, but you need to work the gearbox hard to squeeze out the sporting potential. With 210Nm of torque, mid-range pull is somewhat absent, and we needed to plan further ahead than we'd expected for overtaking maneuvers to give time for downchanges rather than simply planting our right foot.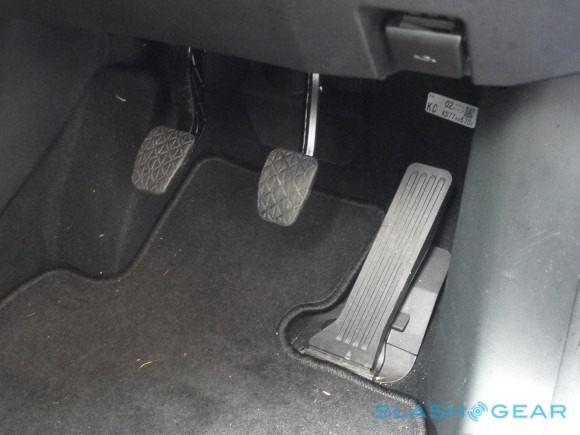 In contrast, the 2.2 diesel has 380Nm and 420Nm of torque for the 150ps and 175ps models respectively, and with peak power coming in at around 2,200 rpm. That means less shifting – though Mazda's foreshortened gearbox is indeed a treat – and, coupled with a chassis that does an excellent job of clinging to twisting roads without wallowing or bouncing, it makes for a far more usable car.
Let's face it, this isn't an MX-5 and, no matter what Mazda claims, you're not going to get pocket sports car performance out of an SUV. However, while you could throw power at the situation to partially address that, we'd actually opt for the 2-wheel drive 150ps diesel, rather than its more powerful AWD sibling. Sure, the AWS system is grippy, but the 2-wheel drive does a great job there too, and we're not sure most CX-5 owners will ever get sufficiently near off-road terrain to make the most of it.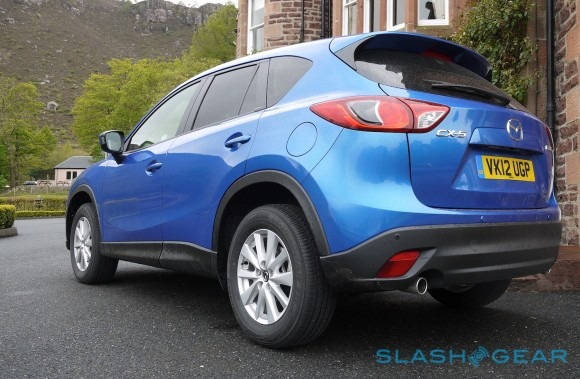 Meanwhile, although the more powerful diesel may reward a more urgent driving style when you're stretching the top end, the mid-range model is impressively potent thanks to all that torque. The difference between the two was only noticeable when we really pushed the CX-5; at that point, you'd best hope you have no children in the back, else you'll be cleaning vomit out of the upholstery for days.
There's no small advantage in efficiency if you opt for the 150 diesel, too. Mazda quotes a combined mpg of 61.4 for the 150 (53.3mpg if you opt for an automatic), compared to 54.3mpg for the 175 (51.4mpg for the auto version). The lower CO2 output could make more of a difference, though, at 119g/km for the 150 manual (139g/km for the auto) versus 136g/km for the 175 manual (144g/km for the auto). That's enough to make the 150 manual UK tax exempt in its first year, something no other SUV can boast. The petrol version comes in at 47.1mpg and 139g/km CO2.
Wrap-Up
Kicking off at £21,395 for the SE-L petrol (from £23,595 for the Sport), from £22,995 for the 2-wheel drive SE-L 150 diesel (from £25,195 for the Sport), from £24,695 for the AWD SE-L 150 and from £27,195 for the AWD Sport 175, the CX-5 is well priced against its SUV rivals. With five seats versus the six or seven of some alternatives, it's perhaps not the choice for larger families, but its advantage is a more car-like driving experience that is arguably the closest the mainstream SUV has come to pairing an elevated driving position and decent road skills.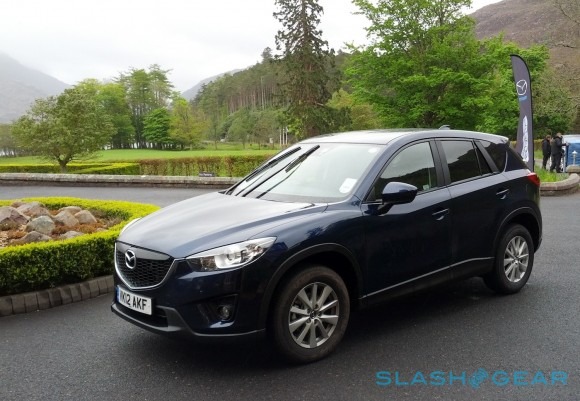 We've a couple of lingering questions about some dashboard decisions, though they're minor, and you'll probably need to give yourself some time to look beyond the snub-nose and learn to appreciate the Mazda's styling. Just as long as you remember to tick the diesel box – and we'd push you to the 2-wheel drive 2.2 150ps one at that – you should be satisfied, and the saving from not picking the most powerful engine means you can step up to the fancier Sport spec too.
So far so good, but the CX-5 promises to be the first of many new models with the SKYACTIV ethos. We're already salivating at the thought of a lighter, more agile and fuel-efficient MX-5, and of course there's also the recent news that Mazda is planning to work with Fiat on a new small convertible. SKYACTIV may not have shown all its strengths yet, but it's off to an excellent start in the CX-5.