Mazda announces 2016 MX-5 Cup Racer pricing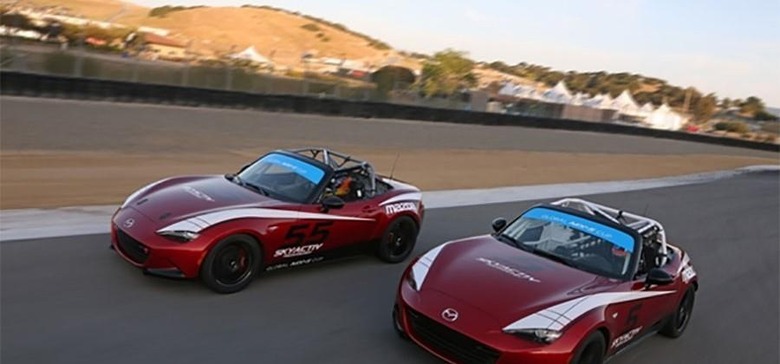 Racing is incredibly expensive whether you are a pro or an amateur racer. The cars themselves often cost into the six-digit range if you want a factory built racer that is eligible to race in some series. One of the most raced cars all around the world is the Mazda MX-5/Miata roadster and for 2016 Mazda has announced the price of the all-new MX-5 Cup car.
The introductory price of the car is set at $53,000, which is a raging bargain for a factory built racing car. Since this is a racing car, buyers don't walk into the showroom and buy from a salesman. The purchase process starts at www.mazdamotorsports.com.
Deliveries of the MX-5 Cup car are set to begin later this year. Turnkey Cup racers start life as normal 2016 MX-5 roadsters that then receive motorsports specific modifications for safety and performance on the track. One of the most noticeable modifications is a racing legal roll cage.
The MX-5 Cup cars allow racers to buy identical cars and wins are decided based on driver skill. Cup cars are eligible for the MX-5 Cup series championships and the winner of that series gets a $200,000 scholarship from Mazda to move to a higher level racing series the next year. The cars are also eligible to participate in SCCA and NASA events.
SOURCE: Mazda Motorsports