How do you go about getting some attention if you're Floyd Mayweather? A nickname like 'Money' doesn't hurt, especially after you shed the 'Pretty Boy' moniker. Talking about the cash you earn on social media  doesn't hurt, either (we're definitely jealous). Having your own social platform in Shots — yeah, that's a solid method, too. Finally facing the one fighter fans and pundits think you should before retirement is also a solid way to grab headlines. Breaking news of that fight on Shots? Brilliant.

Rather than hit Ring Magazine, HBO, Showtime, his own Twitter feed, or even ESPN to break news he'd finally face Manny Pacquiao, Mayweather took to Shots. Releasing the last page of the contract, replete with signatures, Mayweather promised "we will make history on May 2nd."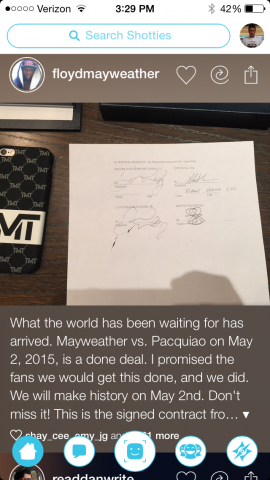 Mayweather even took to Twitter to re-direct fans — who have been eagerly anticipating the announcement for days — to his Shots account, where the pic lie in wait. The App Store Twitter account even got in on it (and saw 12,000 retweets!), giving everyone the drop on Mayweather's announcement and a link to download Shots (linked below for iOS and Android).
It's an interesting intersection of sport and tech, and a brilliant maneuver on Mayweather's part. Ever the self-promoter and businessman (not a knock; he's built an empire), 'Money May' (who's entourage is known as 'The Money Team', hence the 'TMT' iPhone case in the picture) probably got quite a few sign-ups for the social site he's helped back, and is now on the tips of every fight fans' tongue while they're on the edge of their seat waiting for May 2 to roll around.
Source: Shots