Maxell Japan recalls DVD-R media, labeling ink were to blame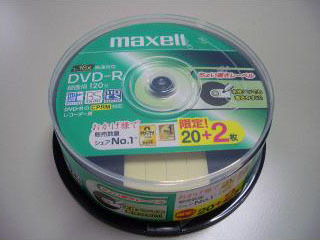 I quitted achieving data in DVD optical recording media ages ago, but my Aunt Sally in Osaka still can't get enough of the lowest cost per gigabyte's optical storage. She wouldn't be please though, to hear that stacks of al-cheapo Maxell DVD-R of hers are being recalled due to manufacturing error.
Hitachi has initiated a recall on its Maxell- DVR optical disk lineup due to labeling ink issues that could contaminate disk surface to dirt.
Not entire Maxell optical DVR media lineup are in question, only one particular model carries the label "DRD120 CGC.20SP +2" with combination of serial number below are affected according to Hitachi. You can determine if you unit is within the trouble lots by checking the serial number imprinted in the center of the disk recording surface.

Good thing for my Aunt Sally, Hitachi is replacing her defective optical media at no extra cost.
[via impress]