Matsunichi ER600 ebook reader wants to get in your den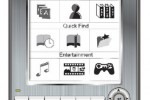 Perhaps what the world of ebook readers needs for true market adoption is not slick new features and bargain pricing but handsome leather detailing.  That seems to be Matsunichi's approach, anyway, with their ER600 ebook reader having a tactile leather grip section at the bottom and stylish brushed metal around the 5- or 6-inch E Ink display.
Other specifications – and as you may have guessed, this is one of those "we'll finalize the hardware when someone pays us to build the things" situations – include an optional touchscreen, optional 3G/3.5G WWAN, optional WiFi and optional Bluetooth.  There's also an onboard MP3 player, microphone input and speaker output, plus a choice of 512MB to 2GB of integrated storage with an SD card slot taking care of overage.
Matsunichi say the ER600 is content with TXT, PDF, HTML, FB2, ePUB, PRC, MOBI, JPG, GIF and BMP file formats, together with offering an RSS reader and web access (which we're assuming you'd need to specify at least one form of wireless connectivity and perhaps the touchscreen in order to take advantage of).  No word on possible pricing, but expect it to run the gamut of "cheap" if spec'd so poorly we no longer care, to "quite expensive" with all the options ticked.
[via Engadget Chinese]