Matrox Unveils New TripleHead2Go Multi-Monitor Adapter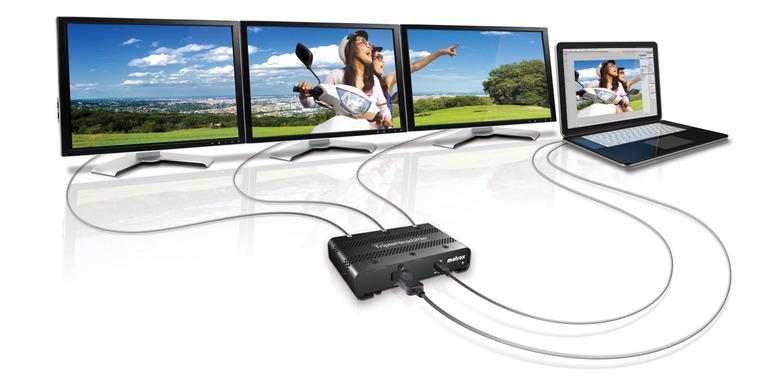 Ask any PC gamers with a beefy rig, and they'll tell you that you want to be using a multi-monitor display while gaming. Naturally, gamers aren't the only ones using multi-monitor displays, as those setups also come in handy in the workplace. There's just one problem: if your desktop or laptop only has a single video-out, you're out of luck when it comes to using a multi-monitor display.
Matrox is looking to solve that problem with its new TripleHead2Go Digital SE multi-monitor adapter. Using this, it will allow you to use a multi-monitor display supporting up to three DVI monitors even if your machine only has a single video out. Matrox says that TripleHead2Go – which is compatible with machines using DisplayPort, Mini DisplayPort, or a Thunderbolt port – works with a "wide range of GPUs" running on Windows or Mac computers, but didn't get into specifics as far as what those GPUs actually are.
TripleHead2Go comes complete with Matrox PowerDesk, which boasts a number of features that give you more control over your multi-monitor setup. One of the features Matrox focuses on in its announcement is Bezel Management, which "compensates for the gap in an image resulting from the bezels of adjacent monitors." Three monitors not enough for you? If you're using a Windows PC, you can take advantage of Multi-GXM support and connect two TripleHead2Go adapters, allowing you to use up to 6 monitors at a time.
On Windows, TripleHead2Go is compatible with monitors running resolutions up to 1920x1080 at 50Hz, while on Mac, the highest you can go is 1360x768 at 60Hz. TripleHead2Go will be available sometime next month – Matrox didn't give a specific release date – and will cost $279.00. In the US and Europe, these multi-monitor adapters will be available directly from Matrox, otherwise, you can find them at any certified Matrox seller.