Matrox Introduces Edge Overlap for Multi-Projector Use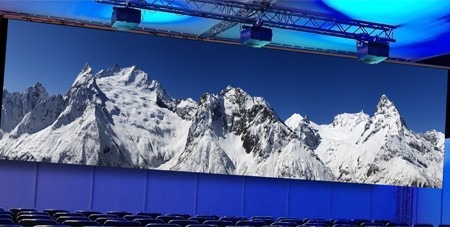 If you want to show a video or presentation over a large surface, but just can't get all your projectors to line up correctly, Matrox may just have the solution for you. Matrox Graphics, Inc. has added Edge Overlap functionality to its M-Series graphics cards with the 4.00.02 display driver. This will allow users who have the video card to use their PCs and lower cost projectors to display a unified image with multiple projectors seamlessly.
The Edge Overlap feature on Matrox's PowerDesk suite lets the user adjust the pixels that are overlapping and blend them into one image. The combination with affordable blending enabled projctors creates an attractive solutioin to users who don't want to use custom projection hardware and software or ultra high-end projectors.
"AV professionals and integrators should be eager to add the Matrox M-Series cards to their list of video sources to use when edge blending with Panasonic PT-D6000 series, PT-DZ8700 series, and PT-DZ12000 series projectors. The Matrox graphics card's image overlap feature, coupled with our projector's edge blending and picture-in-picture feature will enable them to easily produce sophisticated yet cost effective seamless imagery suited for small, medium, and even some large-scale projection environments," said John Meehan, Engineering Manager of Panasonic Solutions Company.
The combination would work well in boardrooms, digital signage applications, classrooms, and presentation environments. The application will work for up to eight projectors.
[Via Matrox Press Release]