MasterCard Unveils PayPass Button And Software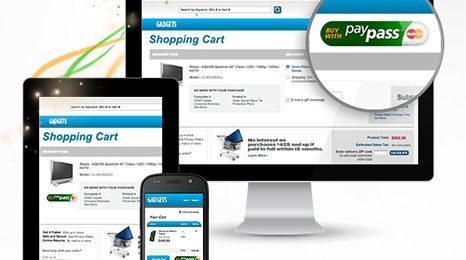 MasterCard was one of the first companies to actively pursue contact payments in the US, and today they're announcing plants to incorporate their PayPass system across web and mobile platforms. In addition to the standard contactless PayPass kiosks that you've likely already seen in US gas stations and other retailers, MasterCard is readying the PayPass Button to sync payments for online merchants as well. In practice, it bears a striking resemblance to PayPal, with the benefit of being already integrated with your credit card.
The company isn't ignoring the mobile front. They've announced a new version of their Android and iOS app that will directly interface with retail kiosks, and help to automatically authenticate a customer's account when shopping online. An API will be provided for prospective merchants and developers. The app isn't available yet, but will be displayed at CTIA in New Orleans, going on now. The first partners for this initiative are Barnes & Noble and American Airlines.
MasterCard will have plenty of competition as it introduces this comprehensive payment system. PayPal is approaching the same idea from the opposite direction with debit and credit cards tied to users' accounts, and Google's Wallet app and service have been trying to corner the market for NFC-based payments in the US. Perhaps the biggest player on the horizon is ISIS, a consortium from Verizon, AT&T, T-Mobile and Verizon that aims to set up a nationwide phone-based NFC system. Some of these carriers are already blocking Google Wallet from the Google Play Store – it'll be interesting to see what they think of MasterCard's move.