Master & Dynamic and Leica launch 0.95 headphones series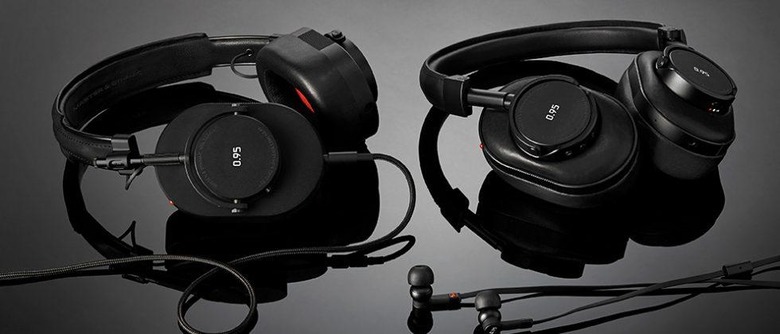 Audio company Master & Dynamic has teamed with camera company Leica to launch a new headphones series under the brand 0.95. The headphones lineup is comprised of two over-ear headphone models and one pair of earbuds. The companies explain that the 0.95 brand is itself a homage to the Leica Noctilux-M 50mm f/0.95 ASPH, the fastest aspherical lens in the world. The headphones' designs come from Leica while the audio quality comes from Master & Dynamic.
The series is officially called the 'Master & Dynamic for 0.95.' The audio company collaborated with Leica to design the three models, labeling them with the 0.95 brand logo and a 'Designed with Leica Camera AG' engraving. The ME05 Earphones are the only earbuds model in the lineup (for now, at least). This model features 8mm drivers and the promise of a 'distinctive form' alongside brass and its various acoustic properties.
The earbuds are made with solid brass bodies overlaid with black chrome and a custom-machined design. The ME05B-95 model (ME05 Earphones) also feature a balanced weight for comfort and a headphone stand for 'stylish' storage. Joining these earbuds are two MW60 Wireless and MH40 over-ear headphone models.
Both over-ear headphones models feature 45mm drivers; the MH40 model in particular is said to offer a rich and warm sound quality. Two individuals can listen to audio at once via the MH40's dual output and input ports for sharing audio from the same single-port device. The MW60 model differs from this, instead offering wireless connectivity with a rechargeable li-ion battery and 16-hours of run time.
The MW60 model boasts an exposed and fully aluminum antenna for optimized signal connectivity and range. It, as with the other two models, likewise features a red acoustic mesh and cowhide leather, Leica's red glass dot mark and small details including a design that draws inspiration from camera control dials. All three models will be available starting on May 4. Pricing has not been detailed at this time.