Marvel's Spider-Man Limited Edition PS4 Pro bundle drops September 7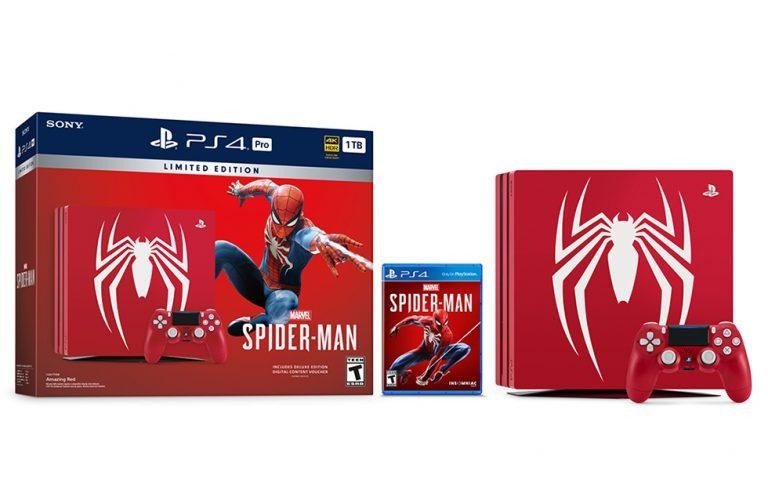 Sony has taken the wraps off a special new PlayStation 4 Pro bundle that will be available starting early next month. The Marvel's Spider-Man Limited Edition PS4 Pro bundle doesn't merely add the video game in with an ordinary console — you get a special crimson red design with a large Spider-Man logo on the device's top.
Sony unveiled the new console bundle today with pre-orders live now. The cache includes a 1TB PlayStation 4 Pro console, wireless DualShock 4 controller, a physical copy of the game Marvel's Spider-Man, and "digital content." The PS4 Pro console and DualShock 4 controller have the same bright red design.
The console showcases the new Spider-Man logo in white across the entire top of the PS4 Pro. The controller is similar; though it doesn't have the Spider-Man logo, it does feature white buttons, joysticks, and triggers. Of course, buyers get the same features found on the standard PlayStation 4 Pro, including 4K HDR video support.

The Marvel's Spider-Man bundle is available to pre-order in the US for $399.99 USD and in Canada for $499.99 CAD. The bundle will be available starting on September 7, the same day Marvel's Spider-Man arrives. The game features the iconic Spider-Man character, web-slinging action, and more. This will be the first game in the franchise that tells a brand new Spider-Man story not linked to any existing movie, book, or game.
SOURCE: PS Blog