Marvel's Avengers is Square Enix's second game delay of the day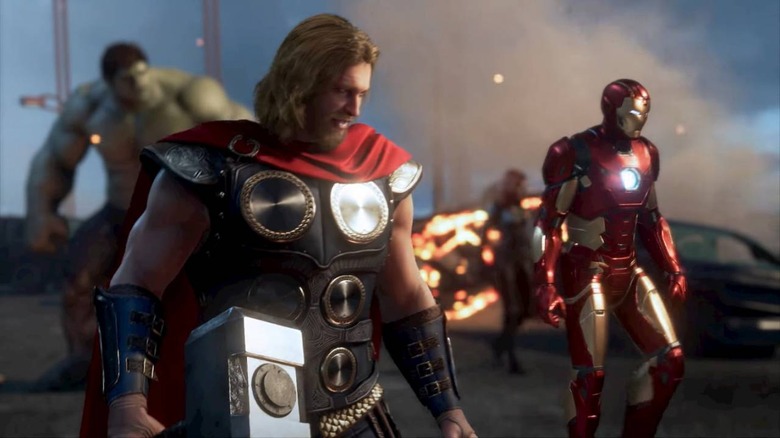 This morning, Square Enix delivered disappointing news about Final Fantasy VII Remake, announcing that it had delayed the game by about a month. It looks like Final Fantasy VII Remake isn't the only delay Square Enix had on the docket, as its subsidiary Crystal Dynamics has also announced a delay for its upcoming Marvel's Avengers game.
The delay for Marvel's Avengers is a bit more severe than the one we saw for Final Fantasy VII Remake. While Final Fantasy VII Remake's release date went from March 3rd to April 10th, Marvel's Avengers has been delayed from May 15th to September 4th. That gives Crystal Dynamics around four months to put the finishing touches on the game, but maybe more importantly, the delay puts more space between it and Cyberpunk 2077, which is scheduled to launch on April 16th and is expected to be one of the biggest games of the year.
In a statement published to Crystal Dynamics' website, the developer seems to suggest that this decision was made in part to address fan feedback. "When we set out to bring you our vision for Marvel's Avengers, we committed to delivering an original story-driven campaign, engaging co-op, and compelling content for years to come," Crystal Dynamics co-heads Scot Amos and Ron Rosenberg wrote. "To that end, we will spend this additional development time focusing on fine tuning and polishing the game to the high standards our fans expect and deserve."
"The worldwide teams working on Marvel's Avengers sincerely appreciate the support you've shown us," the two continued. "We thrive on your enthusiasm and feedback and we can't wait to show you more. We apologize for the delay. We're confident it will be worth the wait."
We got our first real look at Marvel's Avengers at E3 2019, which came after a few years of build-up. Reaction to the footage that was shown and gameplay demos that were later offered was somewhat mixed. That may have prompted Crystal Dynamics to to push the game back, but the statement from Amos and Rosenberg doesn't really delve into specifics.
In any case, Marvel's Avengers and Final Fantasy VII Remake are two of Square Enix's biggest releases in 2020, and now it looks like we'll have to wait longer to play both of them. We'll see if Crystal Dynamics shares anything new about Marvel's Avengers soon, so stay tuned.