Marvell unveils 1.6GHz quad-core Armada XP processor for cloud computing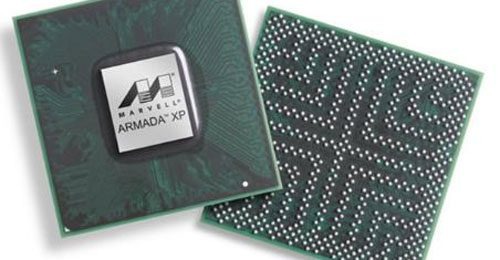 Marvell has unveiled a new processor that it is aiming at cloud computing and other applications. The new processor is called the Armada XP and it is the industry's first quad-core ARM processor for enterprise applications.
The processor operates at up to 1.6GHz on each core and has 16,600 DMIPS performance while consuming under 10W of power. The processor supports heterogeneous multiprocessing with hardware based cache coherence. The processor has up to 2MB of L2 cache.
Other features of the processor include a 64-bit memory interface supporting ECC at up to 800MHz clock rates for DDR2/DDR3/DDR3L memory. The processor also has up to 16 Marvell SERDES lanes with multi functionality for PCI-e, SATA, SGMII, and QSGMII. It also supports multiple USB ports and more. The processor is sampling to customers right now.