Marvell Plug Computer 3.0 updates SheevaPlug with WiFi, Bluetooth, HDD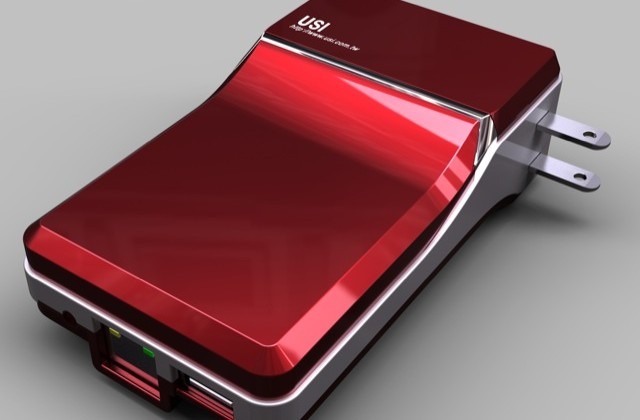 Marvell have announced a new version of their SheevaPlug always-on microserver, the Marvell Plug Computer 3.0.  The compact computer now gets integrated WiFi and Bluetooth, rather than just wired ethernet connectivity, together with a built-in hard-drive of unspecified capacity; Marvell have also given it a faster CPU, in the shape of the 2GHz Armada 300 processor.
A USB 2.0 port allows the connection of external storage or a printer, meanwhile, and the whole thing uses one-tenth the power of a regular PC.  Marvell seem to be targeting home media use this time around, with a strong emphasis on streaming content both within the home and to remote clients when users are away.  However it could also be used to host a website, as part of a mesh or grid network, in a security or home automation system, or for various degrees of industrial control.
As before, Marvell will sell the Plug Computer 3.0 as part of a developer kit, via partner firms such as Universal Scientific Industries Co., Ltd, Ionics EMS, and Globalscale Technologies Inc.  Pricing is yet to be confirmed; we're hoping it comes in at around the same $99 price-point as the original SheevaPlug did.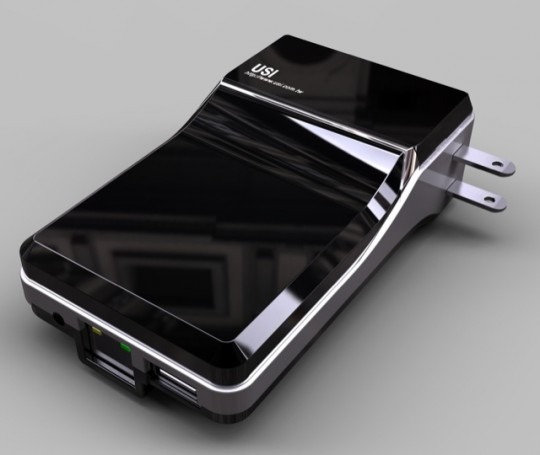 Press Release:
Marvell unveils Plug Computer 3.0 with integrated Wireless and Built-in Hard Drive

Powerful Microserver is bolstered with 2 GHz Armada Processor to drive the "Always-On Lifestyle"

CES – Las Vegas, Nevada (January 5, 2010) — Marvell (NASDAQ: MRVL), a worldwide leader in integrated silicon solutions, today unveiled Plug Computer 3.0 – a new always-on, always connected turnkey platform designed to power the next generation intelligent applications and services for the home and office. The new embedded Wi-Fi, Bluetooth and built-in hard drive extend the use of Plug Computer into new applications including management of medical and financial records as well as a command post for the smart home – allowing for remote management of lights, thermostat and irrigation systems.

Equipped with the recently announced Marvell® ARMADA™ 300 processor, Plug Computer 3.0 offers 2 GHz of processing performance yet maintains a very low power footprint – making Plug Computers more powerful, eco-friendly and efficient – enabling development of plug 'n' play next generation consumer devices with zero configuration. From streaming the latest winter vacation video to a connected TV in the bedroom, to enjoying favorite music on a Wi-Fi enabled receiver in the living room, Plug Computer 3.0 makes enjoying media on intelligent devices throughout the home easier and on-the-go more enjoyable than before.

"With unprecedented integration and very low power design, Plug Computer 3.0 offers a powerful, yet compact, and green development platform to accelerate the development and availability of innovative software and services in the home," said Dr. Simon Milner, Vice President and General Manager, Enterprise Business Unit, Communications and Consumer Group at Marvell. "Following the shipment of more than 10,000 SheevaPlug™ development kits to date, we're confident that this will be a transformational year, where innovative concepts organically fuel a new generation of rich applications to go hand-in-hand with the always-on lifestyle."

The release of Plug Computer 3.0 opens up additional applications and usage in key new markets:

• Smart Grid

• Home Automation

• Medical Monitoring

• Multimedia content sharing

• Security and Access Control

• Industrial automation

• Agricultural

• Mesh and Grid Computing

The Plug Computer 3.0 development kits will be available through Plug Computer vendors such as Universal Scientific Industries Co., Ltd, Ionics EMS, and Globalscale Technologies Inc.

For more information on the products, please visit www.plugcomputer.org or visit the Plug Computer Pavilion at the Consumer Electronics Show (CES) in Las Vegas this week (South Hall 30344).

About the Plug Computer 3.0 Development Platform

The award-winning Plug Computer 3.0 is designed to make high-performance, always on, always connected, and green computing readily available for developers and end-users. Plug Computer 3.0 uses a 2 GHz Marvell ARMADA 300 processor, a built-in hard-disk drive and embedded Marvell Wi-Fi and Bluetooth technologies. Additional peripherals such as Direct Attached Storage (DAS) can be connected using a USB 2.0 port. Multiple standard Linux 2.6 kernel distributions are supported on the Plug Computer 3.0 development platform enabling rapid application development. The enclosure is designed to plug directly into a standard wall socket and is designed to draw less than one tenth of the power of a typical PC being used as a home server.