Marvel Ultimate Alliance 3 DLC plans detailed with Loki up first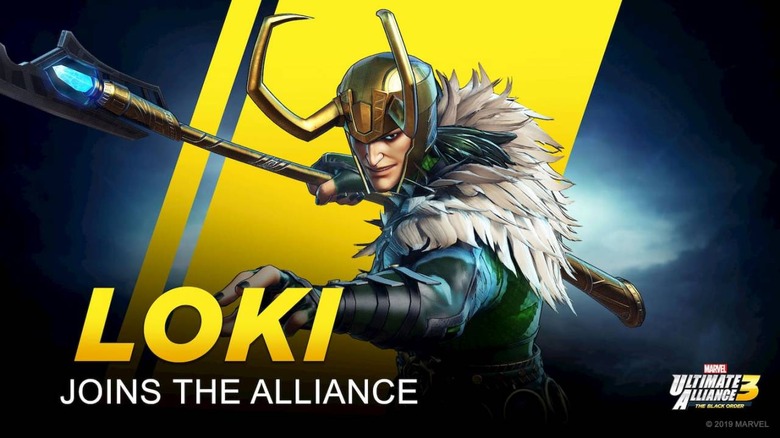 Marvel Ultimate Alliance 3 launched today for Nintendo Switch, and right out of the gate, Nintendo and Marvel are ready to talk DLC. At San Diego Comic Con, which is happening as you read this, Marvel revealed DLC plans for Ultimate Alliance 3. As you'd expect, the DLC will add a bunch of new characters to the game, beginning with Thor's brother and the god of mischief, Loki.
In a surprising little twist, Marvel Ultimate Alliance 3 players don't need to wait to be able to play as Loki. Marvel announced that Loki will be available in-game today, marking the first time he's been playable in the series. It seems that we probably have Tom Hiddleson's characterization of Loki in the MCU to thank for his appearance in Marvel Ultimate Alliance 3; without his prominent role in the films, Loki probably wouldn't be popular enough to warrant a spot on the Ultimate Alliance roster.
.@BillRosemann has stated that rather than Cyclops and Colossus being a part of any upcoming paid DLC, both characters will be included in a FREE update on 8/30! pic.twitter.com/WDf2mnAR4v

— Nintendo of America (@NintendoAmerica) July 18, 2019
In any case, it won't be long before Loki is joined by other heroes from the Marvel universe. On August 30th, X-Men favorites Colossus and Cyclops will be joining the game as well. They'll be added in a free update, so even if you don't have plans to buy the paid DLC for Ultimate Alliance 3, it looks you'll still get a few additional heroes on the house.
If, on the other hand, you don't mind shelling out $19.99 for the Ultimate Alliance 3 expansion pass, you're in for quite a bit more. The expansion pass will add three DLC packs to the game, with new story content and characters from Marvel Knights, X-Men, and the Fantastic Four. The first DLC pack of the bunch will add the characters Moon Knight, Blade, Punisher, and Morbius to the game and it's slated to release sometime this fall.
When all is said and done, the DLC plans for Marvel Ultimate Alliance 3 run through Q1 2020, and it includes alternate outfits for every single character in the game. It's worth pointing out that the DLC in the expansion pass won't be available separately, so if you want some of it, you'll need to pay for all of it. We'll keep an eye out for more information on Marvel Ultimate Alliance 3 DLC, so stay tuned.