Marvel Creativity Studio Stylus For iPad Brings Animated Superhero Drawing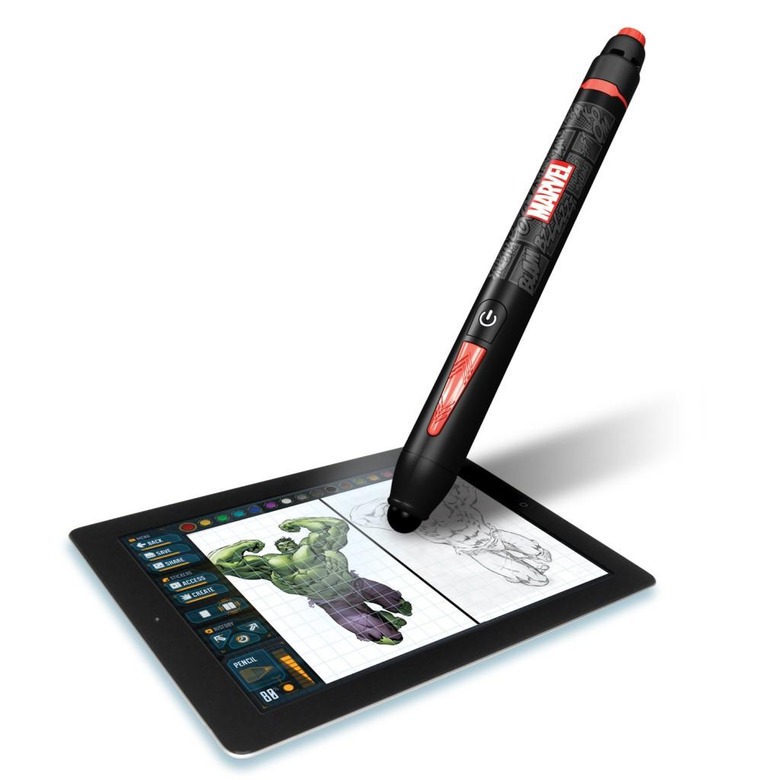 Marvel has unveiled a new Creativity Studio Stylus and accompanying app for the iPad, allowing kids and kids-at-heart to draw and ultimately animate a variety of Marvel's best superheroes. With the app, users get access to superheroes drawn by artists that can be added upon in terms of both design and coloring, and some special unlockable treats are tossed into the mix.
In addition to the illustrations, a variety of tools can be unlocked with the stylus including one called "Reveal," which, as its name suggests, allows pre-colored versions of the illustrations to be revealed in sketched-based increments, something that is more focused towards young users. There's a grid system in place that Marvel says is interactive, as well as lines to trace, and aid in learning to draw. Rounding it all out is the ability to animate scenes, including speech bubbles and sound effects.
The Marvel Creativity Studio App is akin to the Disney Creativity Studio App, which has been refreshed with new content and additional drawing tools, allowing users to draw additional characters from the likes of Monsters University and more. The Stylus brings with it free access to all the content, as well as to all upgrades that happen in the future, and can be had for $34.99 USD. The apps are free.
Said the executive VP of Disney's global franchise licensing and commercialization Josh Silverman: "The Marvel Creativity Studio is an innovative way for fans of all ages to learn how to draw some of Marvel's most popular Super Heroes while allowing them to use their imagination to feel like they're part of the action. Leveraging the comic drawing history of the Marvel brand with the innovation that eKids brings to the table – or in this case, tablet – this product delivers a fun experience with endless play value."
SOURCE: BusinessWire