Marketing fails? Olympus rebrands rugged SW Stylus cameras as Tough series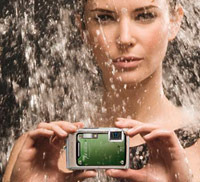 Olympus's Marketing director at Europe division said consumer is looking for digicams that define durability in additional to the core image features. Their existing Stylus SW series offer just that, a little twist in marketing drawing board would reflect the true nature of the SW series.
"The µ (Stylus) TOUGH brand lets our customers know what these cameras truly have to offer: strength that's always ready to go, even in the most extreme conditions"
The new TOUGH Stylus cameras will be available in January 2009. Like our reader suggested in previous coverage, perhaps a video demo to prove its all-proof features would be better served than a rebrand?